UCD Awarded University of Sanctuary Status, March 2018
On 5 March 2018, UCD was formally awarded University of Sanctuary status in recognition of a range of initiatives to welcome refugees and asylum seekers into the University community. These initiatives include a number of fee waivers, along with a range of student-led activities.
In June 2017, UCD University Management Team (UMT) adopted guidelines governing access to the UCD community for refugees, asylum seekers, those with leave to remain and those with subsidiary protection. The proposal to offer free fees to to all refugees and asylum seekers resident in Ireland who qualify to study at UCD but cannot afford the fees was put forward by UCD Refugee Working Group - chaired by Professor Colin Scott, Vice President for Equality, Diversity and Inclusion, and Professor Grace Mulcahy, chair of UCD Widening Participation Group. In 2018, 26 students were approved for support.
The UMT also approved a proposal to extend the Cothrom na Féinne scholarship programme to eligible students who qualify as refugees, asylum seekers, or those with leave to remain and those with subsidiary protection. A budget for 30 scholarship was established worth €1500 per year of study for full time students.
Some other initiatives taken by employees and students at UCD that have contributed to the University of Sanctuary award include:
UCD has also set up 'Fáilte Refugees' (failterefugees.ie), a national student-led campaign, empowering the people of Ireland to welcome refugees into local communities.
The University has also teamed up with the National Youth Council of Ireland to deliver training to students working with refugees and asylum seekers.
There is a UCD staff representative on the Dublin City of Sanctuary Board.
Members of several student societies at UCD and a member of Failte Refugees organised a 'Refugee Awareness Week' in March/April 2017 which will be repeated annually, with a number of events aimed at increasing staff and student knowledge of this area.
On Monday 5 March a ceremony was held in the Contemplative Space, Quinn School of Business, UCD Belfield where Places of Sanctuary member Dr Veronica Crosbie presented to UCD the University of Sanctuary certificate. Speakers at the event included UCD President Andrew Deeks; Nick Henderson, Irish Refugee Council; Olaniperkun Akintola, Stage 1 Computer Science Student; and Emily Logan, Irish Human Rights and Equality Commission.
Places of Sanctuary Ireland is a network of groups in towns, cities and local communities which share the objectives of promoting the integration, inclusion and welfare of refugees, asylum seekers and vulnerable migrants, by encouraging every sector of society to make a practical commitment to becoming places of welcome and safety.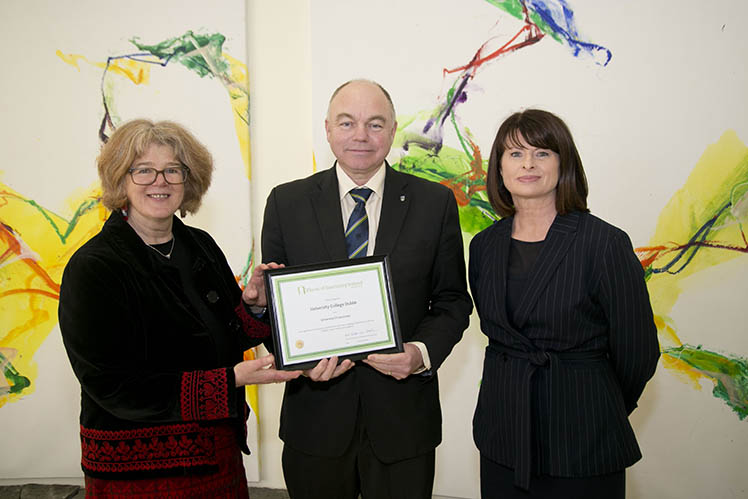 Pictured: Dr Veronica Crosbie, Places of Sanctuary Ireland, UCD President Professor Andrew J Deeks and Emily Logan, Chief Commissioner, Irish Human Rights and Equality Commission
Contact UCD Equality Diversity and Inclusion
University College Dublin, Belfield, Dublin 4, Ireland. E:
edi@ucd.ie