International Day Against Homophobia, Biphobia, Intersexism & Transphobia (#IDAHOBIT) - Tuesday, 17th May 2022
Page updated 13 May 2022
UCD Statement of Support for Our LGBTQI+ Communities
In response to recent attacks on members of LGBTQI+ communities in Ireland the co-chairs of the UCD LGBTI Staff Network issued the Statement below to members of the Network. UCD has no tolerance for homophobia and transphobia of any kind and, through education, research, engagement, supports and the promotion of allyship seeks to support LGBTQI+ communities at UCD and in wider society. UCD is supporting International Day Against Homophobia, Biphobia, Intersexism & Transphobia (#IDAHOBIT) - Tuesday, 17th May 2022 with a range of resources and actions detailed on our website.
Should you or anyone impacted need support, please see the details of the services available to UCD staff and UCD students. The National LGBT helpline is available at 1800 929 539.
Colin Scott
Vice President for Equality, Diversity and Inclusion
Message from Niamh Nestor and John Gilmore, Co-Chairs - UCD LGBTI Staff Network
"Dear friends and colleagues,
The past few days have brought into sharp focus the worst fears we have as members of LGBTQI+ communities.
The heinous and violent attacks which we have become aware of this week are examples of the most extreme and visceral manifestations of homophobia. Our thoughts are with the families and friends of Michael Snee and Aidan Moffitt
and with LGBTQI+ people across the country impacted by the news of their deaths. We send our solidarity also to Evan Somers who was beaten up this week in a homophobic attack in Dublin city centre.
We know that violent attacks like those reported on this week are inextricably linked to a wider acceptance or tolerance of homophobia and transphobia across society. As a Network, we commit to continue to challenge homophobia and transphobia in all its forms.
Should people require support, please note the staff wellbeing supports available at UCD https://www.ucd.ie/hr/a-z/mentalhealthsupports/, as well as the National LGBT helpline 1800 929 539.
Take care of yourselves and your loved ones.
In solidarity,
Niamh and John"

Read the Niamh and John's post on the EDI Blog "Inclusion Never Stops."
Overview
UCD is committed to ensuring that our University community is LGBTI inclusive. We all have a responsibility to create an inclusive University culture that reflects UCD's Equality, Diversity & Inclusion Policy. You can put this commitment into practice by being visible in your support for LGBTI inclusion in UCD. This lets colleagues and students know that they can feel free to be themselves and share their sexual orientation, gender identity or that they are intersex with you. This day raises awareness of discrimination and violence against LGBTI people worldwide.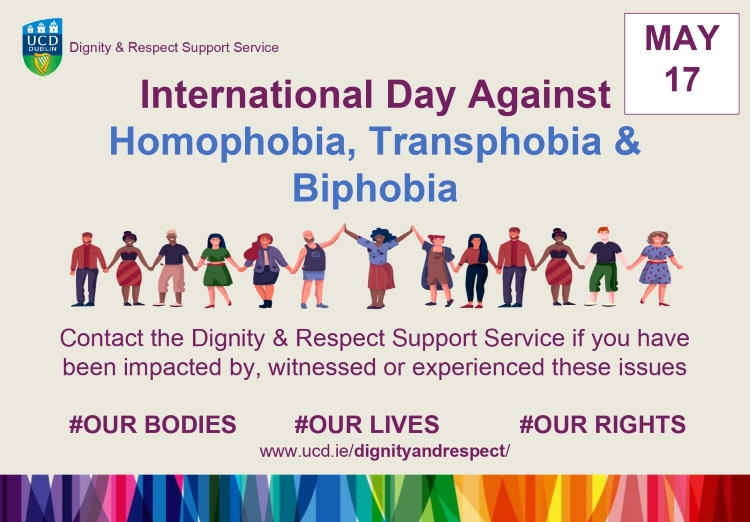 What Can you Do to Support #IDAHOBIT?
Raising awareness of IDAHOBIT lets your colleagues know that you are against the discrimination and violence of LGBTI people. UCD has provided Top Ten Tips to encourage UCD employees to visibly and proactively show their support for the inclusion of LGBTI staff and students in the University Community.
Show/hide content Open Close All
How to Report Incidents
UCD is committed to the promotion of an environment for work and study which upholds the dignity and respect of the individual and which supports every individual's right to study and/or work in an environment which is free of any form of harassment, intimidation or bullying. ‌If you need to report a incident occurred in UCD, you have a range of options, both formal and informal, and supports: