Living Equality and Diversity (LEAD) Programme
The Living Equality and Diversity (LEAD) programme is an innovative e-learning resource which was developed by six members of the IUA Equality Network (DCU, NUIG, TCD, UCC, UCD and UL). LEAD was developed in collaboration with Aurion Learning, and with the support of the Equality Authority and the Equality Mainstreaming Unit.
This interactive programme aims to provide university staff with an awareness of the key equality and diversity issues across the nine grounds in Irish legislation in a university context, and is part of a blended approach to mainstreaming equality and diversity in the workplace and promoting an inclusive work environment.
LEAD was nominated for Outstanding Achievement in the category of Most Innovative Use of Technology at the IITD National Training Awards in 2012.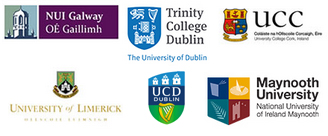 Irish Universities Equality Network member institutions
Programme Content:
Module 1 - Understanding Diversity
This module focuses on what equality and diversity means in the context of the Irish
University sector.
Module 2 – What's it got to do with you?
The purpose of module 2 is to provide an opportunity for participants to consider their own opinions on diversity.
Module 3 – From Compliance to commitment
Module 3 considers what equality and diversity means to the University sector in Ireland. It provides information on the University's equal opportunity policies and why it's essential that Irish Universities are 100% committed to delivering on these policies.
Module 4 – Recruitment & Selection
The importance of equality and diversity in recruitment and selection practice is highlighted in this module.
Module 5 – Dignity & Respect
The aim of this Module is to help participants understand how promoting an atmosphere of equality and diversity amongst the staff and student body will bring benefits to work life and the University as a whole.
Start the Programme
The programme is available on http://www.leadequalitynetwork.com/
To access the programme, please register using your UCD username and password.
About the Irish Universities Association (IUA) Equality Network
The Irish Universities Association Equality Network was established under the auspices of the IUA, and is made up of the seven Universities - DCU, NUIG, TCD, UCC, UCD, UL and NUIM.
The purpose of the network is to work collaboratively to share best practice and develop institutional competence, to develop intervarsity projects and equality initiatives, and to promote an inclusive University environment free from discrimination in compliance with equality legislation.