Professor Wim Saris gives the 2015 John E Kinsella Memorial Lecture
10 December 2015
On Thursday 10th December 2015, the UCD Institute of Food and Health and the University of California, Davis, Foods for Health Institute, were delighted to honour Professor Wim Saris, Professor of Human Nutrition at the Faculty of Health, Medicine and Life Science, Maastricht University, the Netherlands, at the John E Kinsella Memorial Lecture.
The John E Kinsella Memorial Lecture was established by UCD and UC Davis to be given annually by an individual who has made a significant contribution to the advancement of the science of food and health, and who has demonstrated the successful application of the science to positively impact on the economy, industry, policy or society. A Symposium, on the theme of "Nutrition through the life stages" with leading academics from both institutions, and the Memorial Lecture, formed the centrepiece of a number of activities that have were held in UCD to further develop and strengthen the strong relationship with UC Davis.
In 1992, ‌Professor Saris established the Nutrition and Toxicology Research Institute at Maastricht University and was the scientific director until 2005. From 2005 to 2014 he was part-time Corporate Scientist Human Nutrition at DSM, Nutritional Ingredients division. He is author or co-author of 7 books and over 450 scientifically peer-reviewed articles dealing with topics like nutrition, obesity, type 2 diabetes, exercise physiology, cancer cachexia, functional foods and nutrigenomics. He has served on many national and international committees, including the Dutch Health and Nutrition Council; the European Scientific Committee on Food (now EFSA); and the European Technology Platform (ETP) initiative "Food for Life" as well as chairman of the EU Joint Programming Initiative (JPI) "Healthy diet for a healthy life". Professor Saris is also a member of the scientific boards of the UCD Institute of Food and Health and Food for Health Ireland.
‌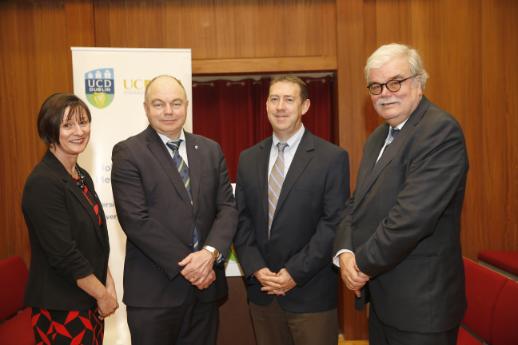 Pictured at the 2015 John E Kinsella Memorial Lecutre: Professor Dolores O'Riordan, Director, UCD Institute of Food and Health and UCD VP for Global Engagement; Professor Andrew Deeks, UCD President; Dr Paul Dodd, Associate Vice-Chancellor for Interdisciplinary Research and Strategic Initiatives, University of California, Davis; Professor Wim Saris, Maastricht University.