Institute Scientists win over €2 million in research funding
15th December 2016
Projects led by Institute PIs funded under the Department's Food Research programme include:
Innovative food structures to enhance the sensory experience, the nutrient profile and nutrient bioavailability for older people; led by Prof Dolores O'Riordan, Dr Aifric O'Sullivan and Dr Graham O'Neill with partners in WIT and Teagasc
Functional foods for Optimal nutrition for healthier Ageing; led by Prof Lorraine Brennan and Dr Michelle Clarke with colleagues at the University of Ulster.
Clean Broilers through Enhanced Farm Biosecurity, Processing Prerequisites and HACCP Based Interventions; led by Dr Paul Whyte and colleagues in Teagasc.
National Children's Food Consumption Survey II; led by Dr Breige McNulty and colleagues at UCC and DIT.
At the launch Minister Creed acknowledged the strong inter-institutional collaborations within the projects and noted that the investment will lead to the creation of 65 contract research positions and 83 post graduate research opportunities in the form of 66 PhDs and 17 Masters degrees across all the institutions involved.
Full details of the Department's press release and projects funded under the programme can be downloaded here.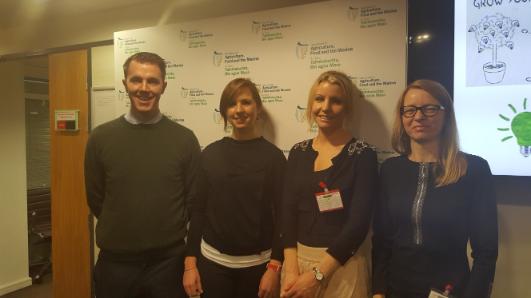 Pictured at today's launch (left to right): Dr Graham O'Neill, Dr Aifric O'Sullivan, Dr Michelle Clarke and Prof Lorraine Brennan.