Connecting the Consumer and Sensory Science
Wednesday 24th May 2017
Over 90 people attended the event held in the UCD William Jefferson Clinton Auditoriurm on 17th May 2017. Held in conjunction with Sensory Food Network Ireland, the seminar heard from contributors from across the food industry and academia on the advances in Sensory Science and the application of this evolving science in bringing new foods and experiences to the Consumer.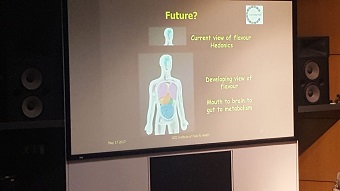 ‌
The presentations from the seminar can now be dowloaded from the links below:
Understanding the Consumer. Dr Nikos Pagida, Sensory Manager, Consumer & Analytical Science, Kerry Group.
‌Chemosensory Differences: Linking Genetics and Food Choice.Dr Emma Feeney, Research Manager, Food for Health Ireland.
Using Technology to Enhance Efficiency, Collaboration and Data Integrity. Mr Steve Willis, Vice President, RedJade Sensory Software.
Meat Flavour - What Does the Consumer Like? Dr Linda Farmer, Agri Food and Biosciences Institute (AFBI), Northern Ireland.
Chemosensory Perception - We Taste What We Smell. Prof Andy Taylor, Emeritus Professor of Flavour Technology, University of Nottingham.

References for this presentation can be downloaded here

Sugar Reduction in Oranges Juices – What about the Flavour? Dr Stephen Elmore, Senior Research Fellow, University of Reading.
Sensory Food Network Ireland. Dr Emily Crofton, Teagasc.
Sensory Standardisation by ISOMs Anne Marie Crowley, Standards Officer, National Standards Authority of Ireland (NSAI).

ISO Standards can be downloaded here

Building Research Partnerships with the Food Industry: A Case Study Dr Amalia Scannell, UCD Institute of Food and Health.