Research Seminars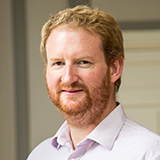 Assistant Professor John Connolly (Trinity College Dublin - TCD)
Dr. John Connolly is an Assistant Professor in Geography at Trinity College Dublin and leads the Trinity Geospatial Research Group. He joined Trinity in 2020 having worked in DCU since 2015. He teaches GIS and Remote Sensing as well as modules on ecosystems and climate change at both undergraduate and postgraduate levels.
His research is focused on using GIS and Earth Observation to study terrestrial carbon dynamics and land use change in Temperate, Boreal and Arctic peatlands and currently collaborates with colleagues in Germany, the UK, Sweden and Canada. He is the Principal Investigator of the EPA funded iHabiMap project (2019 - 2023), a CO-PI on the EPA funded SmartBog project (2019-2023) and CO-PI on the DAFM funded GENENET project (starting in 2020). He leads the SFI funded Enable SolarMap project focused on mapping solar potential in urban areas. He was the recipient of the Boston University/DCU Fellowship in 2019 and was invited to join the BU led GLanCE Global land cover mapping and estimation project as an international collaborator. More information can be found here.
.
Research Talk: 22 October 2020


Dr. David Featherstone (University of Glasgow)
Dr. David Featherstone teaches an Honours degree course on Political Ecology and team-teach on the second year undergraduate course Localisation- Globalisation. He is also year one head. At post-graduate level he team-teaches on the Department's Masters in Research (MRes) degree in Space, Polity and Power and supervises Master's degree students.
Research Talk: 4 February 2021
Professor Brendan Murtagh (Queens University, Belfast)
Professor Brendan Murtagh (Queens University, Belfast) is a chartered Town Planner and Reader at Queens University Belfast with a particular interest in the urban regeneration, social economics and community development. He has researched and written widely on regeneration, social enterprises, contested cities and heritage. His research interests include memorialization and tangible heritage, contested coastal management and solidarity ethics and urban management.
Research Talk: 18 February 2021



Associate Professor Louise Slater (Oxford University, UK)
Associate Professor Louise Slater (Oxford University, UK) is an Associate Professor in Physical Geography; Tutorial Fellow of Hertford College; and Chair of the Oxford Water Network. Before joining Oxford, Louise held Lectureships in Physical Geography at Loughborough University and Queen Mary University of London, and was a Postdoctoral Research Scholar at IIHR-Hydroscience & Engineering, USA.
Louise is an alumna of the Ecole Normale Supérieure Lyon (formerly LSH or Fontenay-St-Cloud) and of the Classes Préparatoires at the Lycée Henri IV, France. She holds her PhD from the University of St Andrews and is Editor for the journal Hydrology and Earth System Sciences (HESS).
Louise acts as a reviewer for international journals in the fields of river science and flooding and has reviewed grants for various UK bodies. She is a member of several learned societies including the American Geophysical Union, the British Society for Geomorphology, and the British Hydrological Society. Louise is also Outreach Secretary for the British Society for Geomorphology and a Visiting Fellow in River Science at Loughborough University.
Research Talk: 25 March 2021