Taught Masters
UCD Geography Masters offer exciting and engaging courses that explore sustainability, geopolitics, Global South, power and inequalities, and GIS. These Masters programmes offer students the possibilities of engaging with key world issues in ways that seek to shape their future, alongside the future of the planet. They appeal both to those who feel that they are more focused on science-based issues, and those who have more social science or Arts interests. Offering practical skills, such as the ability to use GIS (Geographical Information Systems), students create and deliver their own research project with experts in key areas of interest, and engage in hands-on learning, including overseas field trips.
A Geography Masters at UCD offers you a plurality of possibilities to engage your experience and current learning, giving you advanced skills and expertise that will develop your career opportunities, taking you the next level in new and exciting directions for shaping the future. You will study a cutting edge research-led curriculum with leading international experts in Geography.


The MA Geography is aimed at students who wish to develop a deeper understanding of key geographical ideas and themes including but not limited to historical geography, environment, and human geography while studying in Ireland. We encourage students to embrace opportunities to develop their critical thinking skills, undertake independent research in an area of specialist interest such as historical geography or other areas of human geography and environment, and enhance their geospatial skills set. Download a PDF of the flyer for MA Geography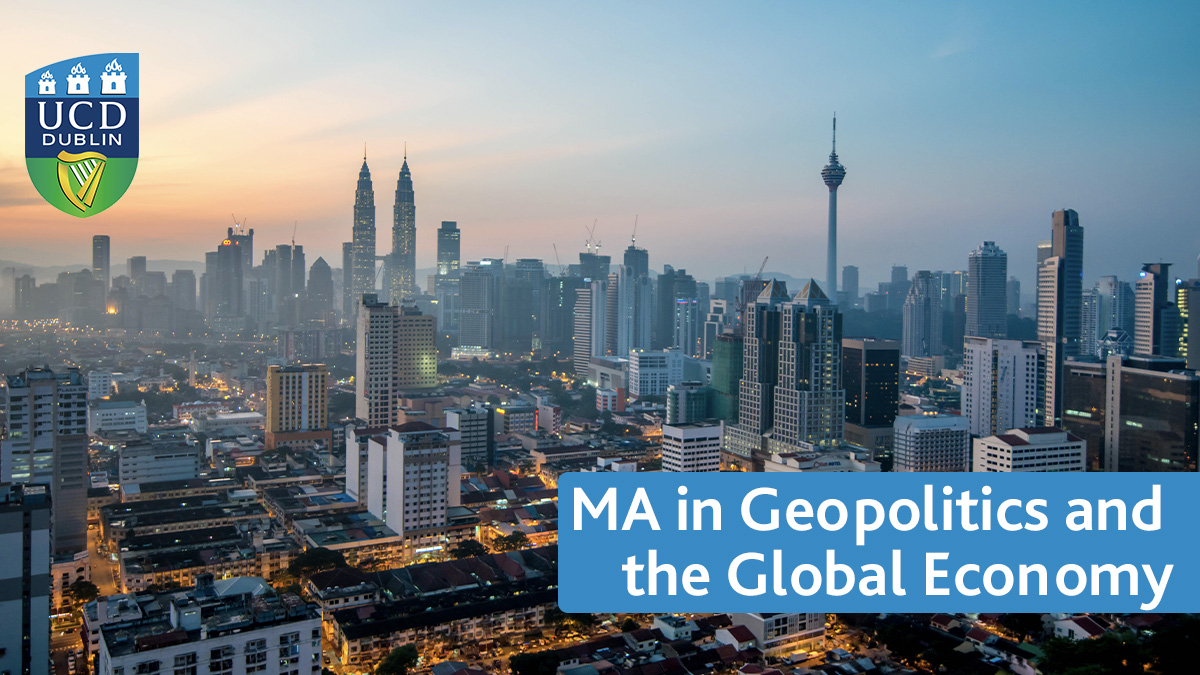 The MA in Geopolitics & the Global Economy equips students with an in-depth understanding of international relations, political geography and globalisation. The course includes fieldwork in an overseas location such as Berlin, Brussels, Madrid, or Reykjavik. Students acquire a solid grounding in political geography, geopolitics and the broad fields of globalisation and international relations. Research topics include: Globalisation, Geopolitics, Political Geography, International relations, and World economy. Download a PDF of the flyer forMA Geopolitics and the Global Economy
The MSc Urban Environment integrates the perspectives of human and physical geography to explore the resilience and sustainability of urban environments. This is a key element of contemporary urban studies and sustainability and resilience are an important part of urban policy. This thematic approach to urban studies is complemented by developing fieldwork and geospatial skills to enable students to understand the urban environment in practice. The city of Dublin is a key laboratory within which resilience, sustainability and urban policy-making can be interrogated. The key objective of the course is to address the challenge of achieving global sustainability by making resource-efficient, smart and liveable cities. Download a PDF of the flyer for MSc Urban Environment


The MSc Development and the Global South programme offers students a critical comprehension of key issues in contemporary geographies of development in the Global South. This understanding is grounded in central theoretical debates in Global South studies, development geography, postcoloniality/decoloniality and development studies. A unique element of the programme is the strong emphasis on gaining applied skills in geo-spatial technologies and a critical understanding of how these tools can be applied to address societal challenges emerging in the Global South relating to development and sustainability. As part of the programme, students will also have the opportunity to focus on Asia or Latin America and will carry out field-based research in either Vietnam or Brazil in collaboration with our partner universities (Hanoi University and Federal Rural University of Rio de Janeiro) and development organisations operating in the region, including Irish Aid. Semester exchange opportunities with these Global South partner universities are also available. This course is strongly suited to students with career interests in international development. Download a PDF of the flyer for MSc Development and the Global South
The MSc Geospatial Data Analytics equips students with practical and applied skills in Geographic Information Systems (GIS) and Remote Sensing (RS) for social and environmental sciences. It provides them with a solid theoretical, conceptual and methodological understanding of GIS and RS that covers legislative requirements and ethical considerations. The programme includes guest speakers from research and industry, exposing students to potential career opportunities in the area. The focus of the programme is on gaining applied skills on spatial data management, visualization, analysis and interpretation within the wider context of sustainable development. Students will have the opportunity to tailor the application of geospatial technologies to their research and career needs from a range of subject areas. Download a PDF of the flyer for MSc Geospatial Data Analytics
The MSc in Spatial Demography is the first of its kind in Ireland. The interdisciplinary programme provides students with an opportunity to study population issues in a research-led environment, with a focus on applying learning to real-world scenarios. Upon graduation, students will have the technical and substantive know-how to fill a large and important gap in an increasingly competitive global economy. They will offer the first cohort of demographers with expertise in population studies/demographic analysis, which is at the core of future public policy and planning. Download a PDF of the flyer by clicking here - MSc Spatial Demography



The

MSc In Risk, Resilience and Sustainability

offers students a critical comprehension of Risk, Resilience and Sustainability, three keywords of our time. Risk

permeates our day-to-day lives. Concepts such as 'critical infrastructure' underpin government initiatives to prepare, and manage for, global challenges such as

climate change, natural disasters, ecological uncertainty, and extreme social inequity.

Geography as a discipline offers expertise in the environment (e.g. hazards such as

earthquakes, volcanic eruptions, tsunamis, cyclones, floods and other environmental hazards

) and the societal dimensions

of risk, resilience and sustainability

and is well placed to offer an interdisciplinary

framework through these paradigms. Download a PDF of the flyer by clicking here -

MSc In Risk, Resilience and Sustainability
The MSc Critical Geographies: Power and Inequality will offer students a robust critical analysis of power relations and inequalities that define our contemporary and past worlds, in search of improved futures. This Master's offers a unique opportunity to engage with critical geographies, as the only taught Masters of its kind globally. It offers hands-on, in the field learning with a choice of field trips, including a Global South option. The programme seeks to work with students to engage and use their understandings and experiences in ways that develop their analytical, intellectual and practical skills. Download a PDF of the flyer by clicking here - MSc Critical Geographies: Power and Inequality


For more information or any queries on these two courses please do not hesitate to contact us here


All our Taught Masters programmes are offered full-time and part-time.


The full-time programmes are one-year in length beginning in September and finishing in the following August. Students must accumulate a total of 90-credits, of which 30-credits are associated with an independent research thesis. In semester 1 of the programme, students will develop a formal research proposal and be assigned a supervisor to oversee the completion of the research project.


The part-time option is taken over 2 years and students must accumulate a total of 90-credits, of which 30-credits are associated with an independent research thesis.


Additionally, the MSc Urban Environment and the MSc Geospatial Analysis are offered as 60-credit diplomas. The Diploma option runs from September to the end of May, involves two semesters of taught courses and there is no final thesis. This may be particularly suitable for those returning to study or who wish to undertake Continuing Professional Development to support their personal, academic or career goals.


For further details and links to the official graduate studies pages, please click on the relevant programme name below for further information and to apply for September 2020 entry.