UCD and UCD Global Scholarships
Some of the most important information for an international student planning to study abroad is around funding and scholarships. UCD offers a number of scholarships for international students, including the UCD Global Excellence Scholarship.
There are both full and partial scholarships available for students on non-EU fees. We encourage you to explore and apply for the student scholarship that's right for you.
Cost of living for International Students
The cost of living is a very important consideration for an international student. We hope the information at the link below will answer a lot of your questions on the cost of living in Ireland. You can use this information to help you plan ahead and budget for your time at UCD.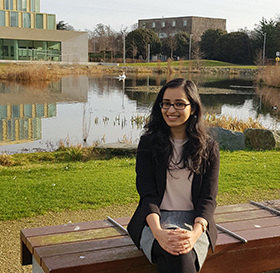 For me, the best thing about UCD is that it stays true to what it promises to be, it is experiential, transformational and international. With the MBA at UCD Smurfit Business School there are three international programs which give us a great perspective on how businesses work internationally. An international trip with your classmates - you know that's definitely going to be fun! I hope to see you at UCD next year!
Sreelakshmy Koonath, full time MBA student, UCD Michael Smurfit Business School
Take the Next Step
Contact us today for more information or to apply for a place.