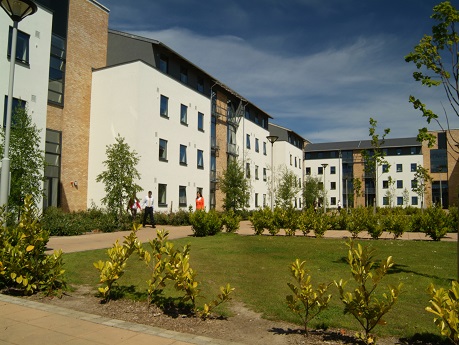 On-Campus Accommodation can be booked HERE
The apartments are positioned discreetly throughout the college campus and every guest sharing accommodation at UCD enjoys their own bedroom, giving them maximum comfort and maximum privacy. Our exceptionally well appointed residential accommodation comprises well-appointed and comfortable 4-bedroom and 6-bedroom apartments – with free WiFi throughout.
Our guests enjoy the use of a roomy kitchen (utensils are not provided) and living room and laundry facilities. In addition, our excellent campus catering facilities are available throughout the summer for added convenience.
The residences at UCD are carefully integrated into their surrounding parkland setting and are very much low-density. Maintained to a high standard, they are an ideal home from home for our summer visitors.
The cost of a single room in a shared apartment is 63 euro per person per night.
Hotels Near UCD ¦¦ Óstáin cóngarach do UCD
For those who would prefer to book accommodation off campus, it is worth noting that UCD is just a 15 minute bus ride from the southern end of the City Centre. The quickest route is shown on the map below along with a selection of hotels. For more information on getting around the city, see our Travel page.
University College Dublin, shown here in green, is located on Belfield Campus, Dublin 4. The blue A pinpoints the bus stop which has the most frequent traffic towards the city. It is also the stop at which the Aircoach picks up passengers for the airport.