New Years Tips for 2019
Happy new year and welcome to 2019! For many now is the time when gym memberships are being sought and the healthy eating craze really kicks in. Below are some tips for the new year, with simplicity being key. The idea is to start off small and build up from there and chances are you will be more likely to stick to your resolutions.
Food
Similar to exercise, the new year usually brings new 'diet fads'. Some of us might be keen on eating healthier now Christmas is over so if your diet was healthy before
Christmas just go back to that. If you want to make some changes then simple tips like cooking your own food at home and bringing it with you to work/college and cutting down on takeaways and processed foods can really make a difference. Plus the Roses and Celebrations are probably no longer around to tempt...hopefully! The food pyramid is a great resource to follow also and there's lots of great recipes and info on our Healthy Eating section too.
Hydration
We should be aiming to drink at least 2 liters of water a day which needs to be increased if exercising. If you find it difficult to drink water why not try adding some lemon, cucumber, mint or other flavours to it? Having a bottle beside your desk and bedside locker will encourage you to drink water also.
Exercise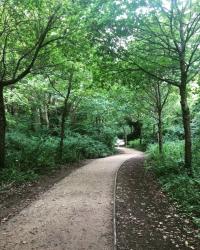 If possible why not walk to and/or from work for a change or get off at an earlier stop if taking public transport. A walk can really help to clear the mind and be a great de-stressor. Also using the stairs instead of the lift is another small thing you can do.
If deciding to join a gym a great idea is to do a 1 day trial, which many gyms offer, then you can decide if you like it enough to join for longer. Contact UCD Sport and Fitness on campus for details of their membership offers. For those not into the gym why not see if there is a couch to 5km training group happening near you?
Hobbies/Volunteer
Is there a hobby that you would like to try or start up again? This can be a great way to get out of the house especially on cold, winter evenings doing something you enjoy. Volunteering can be another great thing to do, helping others and meeting new people. Check out UCD in the Community's website for more info about volunteering.
#healthyucd