Globalising the Rising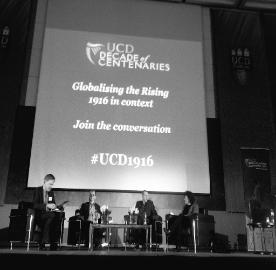 On Friday 5th and Saturday 6th February, UCD's O'Reilly Hall was host to hundreds of academics, students, alumni, and members of the public for 'Globalising the Rising: 1916 in Context'. The aim of the conference was to reappraise the 1916 Rising from cross-national and cross-disciplinary perspectives. Both objectives were impressively achieved through a range of panels and papers showcasing the best of UCD research and also hosting the world's leading experts on the global aspects of 1916. The conference's keynote was delivered by Dr Fearghal McGarry, now Reader in Modern Irish History at Queen's University Belfast and formerly a student of UCD. Dr McGarry's paper , '"A Land Beyond the Wave": Transnational Reflections on Easter 1916' explored the global impact of the 1916 Rising, showing how it was not merely an event in Irish History but a seminal battle in the First Workd War. Professor Michael Silvestri of Clemson University in South Carolina explored the inspirations given by the Dublin insurrection to Indian revolutionaries along side Dr Kate O'Malley of the Royal Irish Academy, a foremost expert on Irish-Indian relations.
The conference was rounded off on Saturday afternoon with a round table discussion between Professors Diarmaid Ferriter of UCD, Eunan O'Halpin of TCD, and Susan Schreibman of Maynooth University. Chaired by Fionnán Sheahan, editor of the Irish Independent, this wide ranging discussion not only asked the hard questions about Ireland's revolution but also tackled important contemporary issues such as the funding of archives, public perceptions of history, and the great opportunities vein presented to researchers by digital humanities.