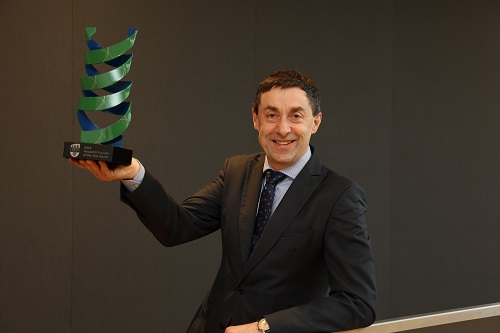 DOCOsoft CEO Receives 2023 NovaUCD Founder of the Year Award
Aidan O'Neill, Founder and CEO of DOCOsoft, an insurance technology company, has been named recipient of the 2023 NovaUCD Spin-out of the Year Award.
He was presented with the Award by Professor Mark Rogers, Acting UCD President, during the annual presentation of the NovaUCD Innovation Awards which took place at the UCD University Club.
Speaking at the Awards event Professor Mark Rogers, Acting UCD President said, "The NovaUCD Innovation Awards are a key annual event at UCD recognising and highlighting successes achieved by our research, innovation and entrepreneurial communities across the University and I congratulate all those who have received awards. I would also like to take the opportunity of wishing them ongoing success in the future as they continue to deliver economic and societal impact through their commercialisation, consultancy, entrepreneurial and innovation activities."
DOCOsoft is an innovative provider of claims management solutions for the global property and casualty (P&C) insurance and reinsurance markets.
Since it was established by Aidan O'Neill in 2008 the company has become a leading provider of state-of-the-art claims management solutions for the Lloyd's insurance market based in London and the global P&C insurance and reinsurance markets.
On receiving the 2023 NovaUCD Founder of the Year Award, Aidan O'Neill, said, "It's a real honour to be singled out for recognition with the NovaUCD Founder of the Year Award."
"Over the last 15 years, DOCOsoft has grown quickly from a start-up with big ideas into a thriving insurance technology business with a leading-edge proposition in the specialist markets we serve. Our market-leading technology transforms the way insurance businesses operate, helping them maximise performance and deliver an enhanced service to their customers."
At present, around half of all claims processed in the London Market, including Lloyd's, go through one of DOCOsoft's claims systems, which manage some £12 billion in premium income per year and result in up to 50% reduction in claims-handling turnaround time for clients.
Some of the largest insurance companies in the world rely on DOCOsoft solutions to manage their core claims in the London Market and clients include; Chubb, AXA XL, The Hartford, Markel International, AXIS Specialty London, SCOR and Munich Re.
The company, which is 100% self-funded, is headquartered at NexusUCD, the Industry Partnership Centre, and is operating in 8 countries including; UK, Japan, Poland, Portugal and India. The company was previously headquartered at NovaUCD.
In recent years the company has been scaling rapidly in terms of number of employees and operational capacity. Staff numbers have almost trebled since 2020 and the company currently employs nearly 80 people and turnover is growing at an annual rate of over 25%. Last year DOCOsoft opened up a new market, securing its first client in Bermuda.
Aidan O'Neill added, "DOCOsoft's success is driven by the hard work and passion of the highly skilled and highly motivated team of people who work here. We're united in our passion for finding solutions to the complex challenges our clients face and helping them grasp new opportunities."
DOCOsoft is continuing to expand and plans to recruit around 30 additional employees this year. The company is also currently finalising a development programme to build out its next generation cloud claims system which will be ready to launch later this year and which has been part funded by an Enterprise Ireland R&D Innovation grant.
The other NovaUCD Innovation Awardees are;
2023 NovaUCD Innovation Award: Professor Stefan Oscarson, UCD School of Chemistry and Professor Stephen Carrington, UCD School of Veterinary Medicine (retired).
2023 NovaUCD Invention of the Year Award: Dr Joseph Sweeney, UCD School of Biosystems and Food Engineering.
2023 NovaUCD Spin-out of the Year Award: seamlessCARE.
2023 NovaUCD Consultancy of the Year Award: Dr Stephen Davis, UCD School of Archaeology.
2023 NovaUCD Licence of the Year Award: Associate Professor Siobhán McClean, UCD School of Biomolecular and Biomedical Science.
2023 NovaUCD Innovation Champion of the Year Award: Dr Eoin O'Cearbhaill, UCD School of Mechanical and Materials Engineering.
ENDS
31 March 2023
For more information contact Micéal Whelan, Communications and Media Relations Manager, NovaUCD, UCD Research and Innovation, e: miceal.whelan@ucd.ie.