The UCD Imagine Science Film Festival
The UCD Imagine Science Film Festival which will run from 5-14 July 2012 is part of the Dublin City of Science 2012 Festival 2012.
The Film Festival will open with the premier of Fermat's Room introduced by special guest, Professoe Cedric Villani.
On 13 July we look forward to presenting a rare and intimate audience with Nobel Laureate Professor James Watson, esteemed American molecular biologist, geneticist and zoologist, best known as the co-discoverer of the structure of DNA in 1953 with Francis Crick. At this unique event we will screen the award-winning The Race for the Double Helix featuring Jeff Goldblum, and Watson will discuss his life and discoveries in a post-screening conversation.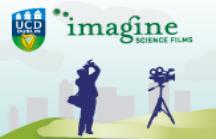 The Film Festival, developed by UCD Research with Imagine Science Film Festival in New York, is a city-wide exploration of science through the medium of film. In association with our partner Science Foundation Ireland, The Arts Council/An Chomhairle Ealaíon and Ambassade De France, it will offer the public an incredible line-up of international and Irish movies, shorts, animations, discussions, art, music and a mobile Science Cinema Tour supported by Google.
The Festival closes on 14 July with the European Premiere of Planet Ocean hot on the heels of its World Premiere at the United Nations Conference on Sustainable Development. Planet Ocean, which captures breath-taking footage of the planet's natural wonders, was filmed during the voyages of the Tara Expedition.
Dr Emmanuel Reynaud of UCD Earth Institute and the School of Biology & Environmental Science is part of the Tara Expedition research programme.
This is just a sample of what's on offer from Ireland's very first Science Film Festival.
Full details of the programme are available via: www.ucdimaginescience.ie
The Dublin City of Science 2012 festival is a year long celebration that will bring together a community of cultural institutions, organisations and individuals who are passionate about showcasing the best of Irish culture, arts and science
SHARE