Global Engagement Leadership Profile – Professor Brian Fynes
30 November 2017
Brian Fynes was appointed to the role of Vice-Principal (Internationalisation) in the College of Business in April 2017.
Brian has been a faculty member in UCD since 1990 and is Professor of Supply Chain Management. He served as Subject Area Head of Management from 2007 to 2016. He was President of the Global Manufacturing Research Group (GMRG) in 2013 and continues to serve on its Executive Board. He served on the Board of the European Operations Management Association (EurOMA) from 2008 to 2014 and co-chaired the 20th EurOMA Conference in Dublin in 2013.
In his role as VPI his ambition is threefold: firstly, to consolidate and build on the overseas operations of the College of Business in Singapore, Hong Kong and Sri Lanka; secondly, to continue to explore new markets for inward overseas students into both the Quinn and Smurfit Schools; and thirdly, to continue to proactively contribute to College's key international networks - the Global Network for Advanced Management (GNAM), the Global Alliance in Management education (CEMS) and the Partnership in International Management (PIM).
Brian spent two years at London Business as an EU Marie Curie Post-Doctoral Research Fellow. On his daily walk to work, he passed by Abbey Road and Baker Street (homes to the Beatles and Sherlock Holmes). On his walk home, he would often drop into Lord's Cricket Ground to catch end of the day's match. All great and memorable landmark London locations!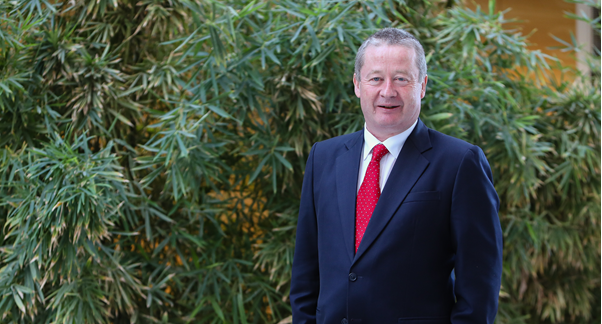 UCD International News and Events
UCD President's Alumni Australia Tour 2017
23/10/2017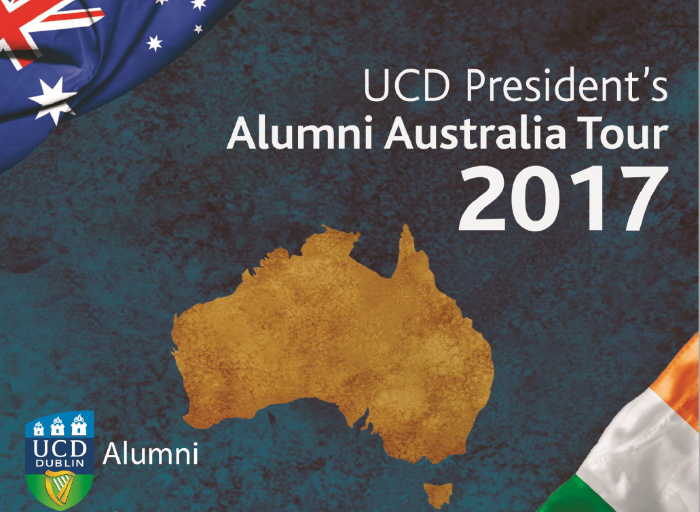 The first UCD President's Alumni Australia Tour will take place from Monday 23 October to Thursday 26 October 2017. The President will visit Perth on 23 October, Melbourne on 25 October and Sydney on 26 October, to celebrate UCD's growing relationship with graduates. Currently UCD has over 2,500 alumni in Australia, with Alumni Chapters in Perth, Adelaide, Melbourne and Sydney.
Over the last 163 years, UCD has grown from strength to strength and today is Ireland's largest and most globally engaged university. The University is working hard towards achieving its vision for 2020 - bringing the best of the world to Ireland and the best of Ireland, including its distinct cultures, to the world by developing strategic relationships to grow global engagement.
On 1 January 2014, Professor Andrew J Deeks took up the presidency of UCD, becoming the first Australian to lead an Irish university, and only the second person from outside Ireland to lead UCD since its founding rector, Cardinal John Henry Newman. It is with great pride that Professor Deeks returns to his homeland to witness the positive impact that UCD graduates have had on Australia. The UCD experience does not end with graduation, alumni are supported throughout their careers, building a strong and vibrant global UCD alumni network.
The UCD President's Alumni Australia Tour aims to grow this strong alumni community, allowing UCD graduates to benefit from the strength of its network and connections.
Venues for the Australia Tour:
Perth: University Club of Western Australia
Melbourne: University House, University of Melbourne
Sydney: Four Seasons Hotel, 199 George Street
Alumni are invited to come along to our events in any of the cities above, further details are available at www.ucd.ie/alumni
UCD International Study Centre: Renewal of Foundation Studies Agreement
11/10/2017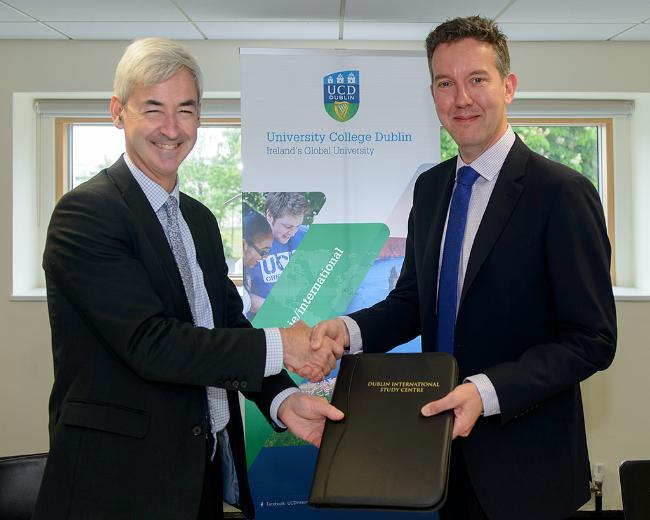 ‌
James Pitman (Study Group Ltd.) and Douglas Proctor (UCD International) shake hands.
Following in-depth negotiations since late last year, a new contractual agreement between UCD and Study Group in relation to the operation of the UCD International Study Centre was signed on 14 September 2017 (with an effective commencement date of 01 September 2017).
Located on-campus in Richview Newstead Block A, the UCD International Study Centre (www.ucdisc.com) offers International Foundation Year pathway programmes for international students and is a crucial channel for UCD in its international recruitment strategy.
In line with the recent tender document issued by the university in respect of these pathway programmes, key aspects of this new agreement include:
Detailed service levels, and a clear understanding about how service levels will be monitored and acted upon if they are not met

A clearer academic and strategic governance framework for the partnership and for the International Study Centre, including a joint Steering Committee and a university Oversight Board

Refreshed financial arrangements, including how space allocation to the International Study Centre is planned for and managed.
In Semester 1 2017, the UCD International Study Centre has enrolled 88 foundation year students from 17 countries, with sizeable cohorts from the Middle East (Kuwait, Saudi Arabia and Oman) and from China. With further enrolments in train for Semester 2 in January, the Centre is well on track to meet, and indeed exceed, the agreed target of 102 enrolments in the 2017/18 academic year.
To recruit and admit these students, UCD staff in Colleges and in UCD International work closely with the Study Centre, and the students then have nearly full access to UCD services and facilities during their Foundation Year programmes. UCD expects at least 75% of eligible graduates from these programmes to then progress to a Bachelor's degree at UCD, and there is close coordination to ensure that this percentage is achieved.
As a testament to the quality of this pathway, former Foundation Year students have been shown to be well-prepared for their university studies. HongBo Sun, for example, undertook the international foundation year in Engineering and Sciences as preparation for entry into the Bachelor of Computer Science. As per his testimonial below, HongBo has now founded his own company 'SimpliFly', an airport shopping mobile application.
"When I first came here I felt lonely. The International Study Centre was the first touch point for me to meet my teachers and they were willing to listen. My English wasn't good but they made me feel like this was my second home and that gave me confidence when I progressed into UCD. I feel like I have a home here. It all started with the International Study Centre and I appreciate all the help I received there.
I applied to graduate one year earlier as I already had my own company and wanted to devote myself one hundred per cent on pursuing my career. I founded my company (SimpliFly) with another partner who I met at an entrepreneurship event called Startup Weekend. SimpliFly is a global, airport shopping smartphone application that lets you browse any airport in the world. You can make a purchase before your journey or on your flight and we deliver it to your destination or give it to you at your arrival terminal. We are very ambitious and many world-class leaders have joined the company as advisors."
If you have any queries about the UCD International Study Centre and/or the partnership between UCD and Study Group to run this Centre, please feel free to reach out to Dr Douglas Proctor, Director of International Affairs at
directorinternationalaffairs@ucd.ie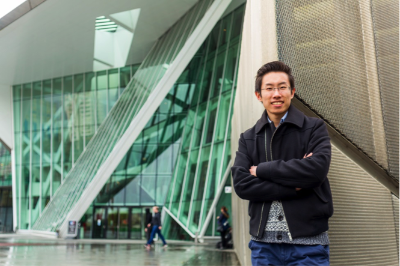 Hongbo Sun, International Study Centre alumnus
Global Engagement Leadership Profile – Dr Selena Daly
03/10/2017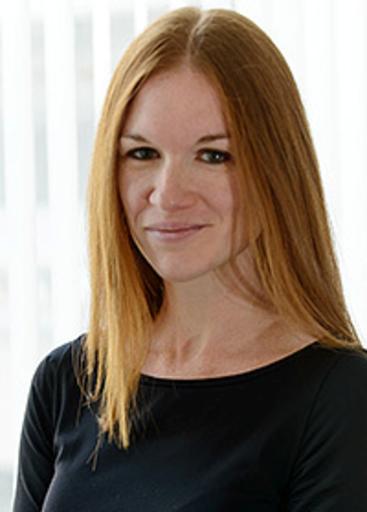 Dr Selena Daly was appointed to the role of Vice-Principal for Global Engagement in the College of Arts and Humanities in September 2017.‌
Selena holds a PhD from UCD and has been an Assistant Professor/Lecturer in Italian Studies (School of Languages, Cultures, and Linguistics) since February 2016.
In her leadership role, she is looking forward to promoting the outstanding profile of Arts and Humanities at UCD around the world, and to advocating for the essential role that humanities disciplines play in society. She is also keen to foster a truly international culture within the UCD student body, by promoting opportunities for studying abroad and for intercultural engagement at home.
Given her field of study, much of Selena's engagement abroad has focused on Italy. She did an Erasmus year and her Master's degree in Rome, and completed part of her PhD in Milan. Her time as a Fulbright Scholar at the University of California, Santa Barbara (a university with its own beach!) was also particularly memorable.
UNICA Student Conference 2017
1 June 2017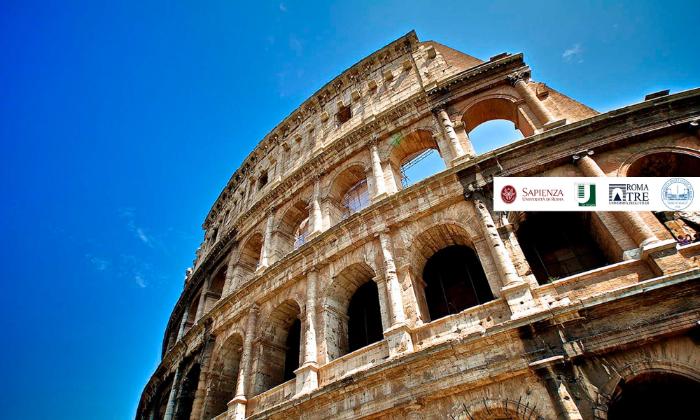 UCD is a member of the European UNICA network, which organises a student conference every two years. This year's conference will take place in Rome from 4 – 7 October 2017, on the theme of 'Towards Student-Centred Universities'. UCD would like to send a delegation to the conference and is now inviting applications from interested students.
The deadline for applications is Sunday 11 June at midnight.
More information is available in the UNICA Student Conference 2017 - Call for applications, along with informtation on the conference arrangements and the conference theme and topics.
UCD Team Awarded 2nd Place in U21 Global Ingenuity Challenge 2017
4 May 2017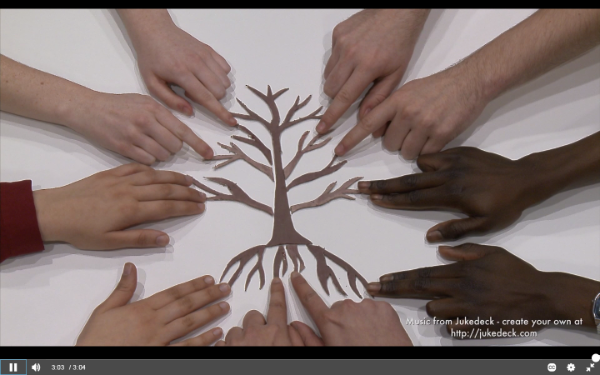 UCD's student team has been awarded second place in the Universitas 21 2017 Global Ingenuity Challenge (GIC). Under the guidance of Dr Conor Buggy (U21 Ingenuity Facilitator (IF)), the students' entry, 'Roots before Branches' proposed a novel response to this year's GIC theme: 'Promoting Cultural Inclusiveness in Society'.
The team consisted of Tadhg O'Keefe (Stage 3, Mathematical Science), Ashutosh Bagla (Stage 4, Food & Agribusiness Management), Sinead Mulroy (Stage 4, Medicine), Samu Bockarie (Stage 3, Architecture) and Rida Mahmood (Stage 2, Human Nutrition). In the space of two weeks, the UCD developed an innovative model to encourage interaction between staff and student communities via activities such as team challenges, cultural programmes, and social activities, participation in which is awarded with digital badges.
They competed against 14 other teams, representing 9 nine U21 partner universities. In addition to developing an innovative response to the GIC theme, each team had to create a 3 minute video to promote their idea. These videos can be viewed here: https://www.nottingham.ac.uk/business/businesscentres/hgi/competitions/global-ingenuity-challenge/video-pitch-entries-2017.aspx
The first prize was jointly awarded to teams from the Universities of Amsterdam ('Unify') and Nottingham ('YOCO'), while the team from the University of Birmingham ('Community Connect') was awarded third place.
Professor James Conroy (VP Internationalisation, University of Glasgow), Chair of the judging panel, commended the high standard of entries this year: "The Global Ingenuity Challenge continues to attract entries of the highest quality from across our universities. Indeed, judging the best is itself a challenge for the panel as so many of this year's entries combined wonderful presentational skills and innovative solutions, reflecting the passion to constantly nurture intercultural understanding and engagement. The best entries skilfully combined clever media presentation, clarity of thought and innovative solutions that reached out to communities beyond the university. From apps that enabled work with civic bodies to cleverly organised evening soirees the creativity on display is a reminder of just how talented our students are."
This year marked the third iteration of the U21 Global Ingenuity Challenge. Since its inception, the challenge has involved a total of forty teams (approximately 200 students). A broad theme is selected each year that allows for an interdisciplinary approach to solutions and analysis, so that it appeals to a wide range of students and disciplines across the network. The challenge is facilitated through Ingenuity Online; a creative problem solving tool developed by the University of Nottingham's Business School's Haydn Green Institute for Innovation and Entrepreneurship.
The winning team from Amsterdam noted: "The Ingenuity platform is a nice way to structure your thoughts and come up with practical solutions to wide ranging problems." The winning team from Nottingham were equally enthusiastic about the process: "This was an amazing experience for all of us. We are all from 5 different countries and cultures and we met each other for the first time. We had great team work and the synergy level was always on high level. Starting from idea generating at Ingenuity Online, we had outstanding brainstorming session, with more than 200 ideas."
U21 Provost Professor Bairbre Redmond, said, "One of the best things about being an academic in one of U21's universities is the privilege of working with our bright, innovative, and globally aware students. This energy and social concern was clearly evident in every one of 15 videos prepared recently by teams of U21 undergraduate students, from across the network, for the U21 GIC. Working to the competition brief to come up with easily implementable solutions to `Promoting Cultural Inclusiveness in Society', the teams developed approaches which were indeed ingenious and distilled these ideas into short engaging videos. I warmly congratulate the winners and all those who took part - your universities should be very proud of how you all went about tackling a very serious world issue."
Two UCD Architecture Students to Attend U21 Summer School
18 April 2017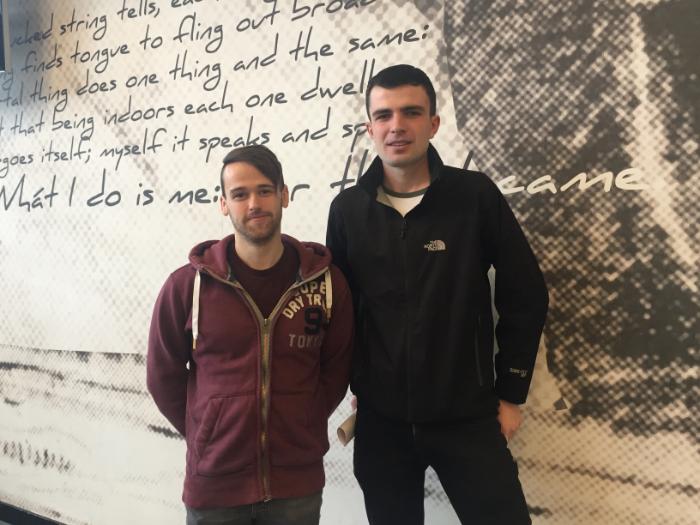 Shane Dempsey and Mark Ruddy, who will be participating in the U21 Summer School at the University of Johannesburg
Two UCD Stage 3 Architecture students, Mark Ruddy and Shane Dempsey, have been selected to participate in the Universitas 21 Summer School which is being hosted by the University of Johannesburg this year.
This year's Summer School is entitled 'Fabricating Design Space/s' and will be hosted by David Tlale, an award winning South African fashion designer. The three-week programme, running from June to July, will focus on materials design work with a strong practical element, especially in metalwork. Students will also take part in workshops on 'Space, Openness, and the Body & Construct'. Mark and Shane will join students from around the world, many of whom will be from UCD's U21 partners in 15 different countries worldwide. As the Summer School is design-focused, Mark and Shane will be working with staff and students representing a wide range of disciplinary backgrounds.
When asked what drew him to the competition, Mark Ruddy said, 'With architecture generally it's all about taking experiences and using them in your design work, so visiting a new place is always beneficial to how you think and how you work.' He is also excited to work with designers from different disciplines as he feels that he can learn a lot from their different approaches to subject matter.
Shane Dempsey is eager to learn about working with a new material. 'It's not something that I have ever worked with. It's not something we have learned in Architecture at all. Learning different ways of working with a new material will be interesting.'
Shane and Mark will receive a scholarship which will cover their course registration and tuition fees, accommodation and flights to South Africa.
Successful Applicants to the URC 2017
7 April 2017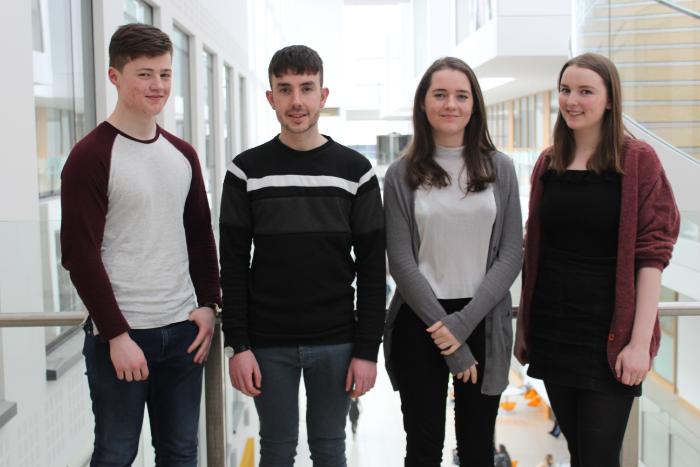 From left to right: Stephen Crosby, Sean Canavan, Niamh Buckle and Hannah Twomey
Following a competitive selection process, four UCD students have been selected to participate in this year's U21 Undergraduate Research Conference, hosted by the University of Edinburgh. During the last week of June, the four UCD students will join students from U21 partner universities around the world to present on their own research tied to this year's conference topic, 'Future Societies, Global Citizens'.
This year's representatives are Hannah Twomey (Stage 2, Politics and Philosophy), Sean Canavan (Stage 4, History and Law), Stephen Crosby (Stage 2, Politics and International Relations) and Niamh Buckle (Stage 2, Children's and General Nursing). Each student has been paired with an academic mentor from their respective schools, who will help them develop their presentations.
When asked why she signed up for the competition, Hannah Twomey said, 'What I really like about the conference, apart from the trip to Edinburgh, is that there is no single subject that it is based on, that it is people from all sorts of disciplines trying to solve the same issues.' For Sean Canavan, the URC 2017 represents an excellent chance to hone professional skills before entering the working world.
Niamh Buckle says her passion for international engagement was sparked by the U21 Shared Online Course on Planetary Urbanisation. As a nursing student, she is interested in the effects on health of air pollution in an increasingly globalised world. Stephen Crosby has also chosen an equally topical subject for his presentation: the effects of Brexit on UK and EU university students.
The UCD participants will each receive a scholarship towards their travel and accommodation for the URC 2017.
Following a competitive selection process, four UCD students have been selected to participate in this year's U21 Undergraduate Research Conference, hosted by the University of Edinburgh. During the last week of June, the four UCD students will join students from U21 partner universities around the world to present on their own research tied to this year's conference topic, 'Future Societies, Global Citizens'.