TILDA Wave 3 Released
6 July 2017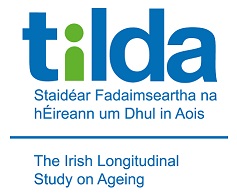 We are delighted to announce that TILDA Wave 3 has been release and is now available for research or teaching purposes.
TILDA collects information on all aspects of health, economic and social circumstances from adults aged 50 years and over resident in Ireland. Waves of data collection take place every two years. TILDA provides a comprehensive and accurate picture of the characteristics, needs and contributions of older persons in Ireland to inform and support improvements in policy and practice; advancements in technology and innovation; tailored education and training through an enhanced ageing research infrastructure; harmonisation with leading international research to ensure adoption of best policy and practice and comparability of results. TILDA is necessary to act as the foundation on which we can plan appropriate health, medical, social and economic policies for our older adults.
Data collection for Wave 3 took place between March 2014 and October 2015 and contains data on 6,902 respondents who took part in the wave, of which 6,400 are included in the AMF. The data are available in SPSS and SAS formats.
For full metadata, documentation and details of the access procedures for the data please see: http://www.ucd.ie/issda/data/tilda/wave3/