Microsoft Windows 7 End of Life – 14 January 2020
Microsoft will end their support for the Windows 7 operating system on 14 January 2020. After this time Microsoft will no longer release software or security updates for the Windows 7 operating system.
What does this mean for me?
Continuing with Windows 7 beyond this date will expose serious risks to the UCD network such as security compromises, data breaches, virus and malware attacks.
IT Services will cease support of any PC or Laptop running Windows 7 after 14 January, until the operating system has been upgraded to Windows 10.
What should I do next?
If your desktop or laptop is more than 5 years old on 1 March 2020, IT Services advise that you should replace it with a new PC or Laptop running Windows 10.
If your PC was bought under the Framework from Dell between 1 March 2016 and 30 November 2016, and is still under warranty after 1 March 2020 and you have a valid Windows 10 licence, please follow the instructions below to upgrade your PC to Windows 10.
Upgrade a PC to Windows 10 from Windows 7
Before upgrading your PC or laptop please take note of the following:
It is important that

you make sure to backup any personal data before proceeding with the upgrade.

You should uninstall the Novell client on your machine. You can re-install the Novell client from Software Download after you have upgraded your machine to Windows 10.

If your PC or laptop is encrypted, please ensure that you know your encryption key before proceeding to upgrade your computer.
Steps to upgrade your PC or laptop
Go to https://www.microsoft.com/en-gb/software-download/windows10. Select Download tool, and select Run. You need to be an administrator to run this tool.
On the License terms page, if you accept the license terms, select Accept.
On the What do you want to do?page, select Upgrade this PC now, and then select Next.
After downloading and installing, the tool will walk you through how to set up Windows 10 on your PC.
When Windows 10 is ready to install, you'll see a recap of what you've chosen, and what will be kept through the upgrade. Select Change what to keep to set whether you would like to Keep personal files and apps, or Keep personal files only, or choose to keep Nothing during the upgrade.
Save and close any open apps and files you may be running, and when you're ready, select Install.
It might take some time to install Windows 10, and your PC will restart a few times. Make sure you don't turn off your PC.
IT Services will continue to update this webpage so please check back for more FAQ's and updates.
FAQ
Open All
How do I know what OS I am using?
Windows 7 and earlier
Click Start, usually found in the lower left corner of the main desktop screen.
Click the Run or Search field, type winver, and press Enter.
An About Windows window will open and display the version of Microsoft Windows, the build info, and service pack information, if any service pack is installed. Below is an image and example of this window.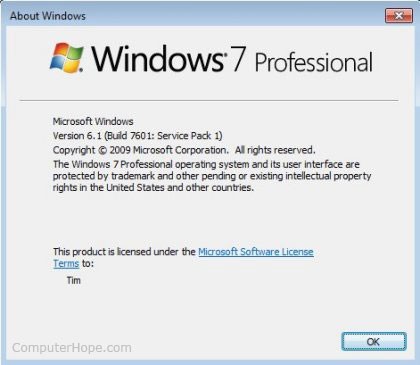 Windows 8 and 10
Go to the Windows destop
Press the Windows key + R on the keyboard.
Type winverin the text field and press Enter.
How do I know if my machine is in warranty?
If your PC was bought under the Dell framework, it will have Dell Service Tag sticker. The service tag number is a 7 alphanumeric character code, e.g. B1RJ2J2. If your warranty expiration date is not on the sticker, you can check your warranty on the Dell web site - https://www.dell.com/support/home/ie/en/iebsdt1