25 March 2023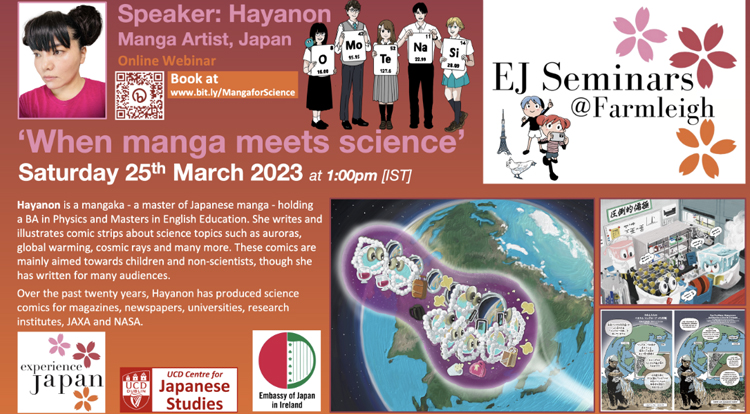 Hayanon – science manga writer from Okinawa – will give a special talk for the Experience Japan fans (i.e. everyone!) on Saturday 25 March 2023.
Hayanon is a mangaka - a master of Japanese manga - holding a BA in Physics and Masters in English Education. She writes and illustrates comic strips about science topics such as auroras, global warming, cosmic rays and many more. These comics are mainly aimed towards children and non-scientists, though she has written for many audiences. Over the past twenty years, Hayanon has produced science comics for magazines, newspapers, universities, research institutes, JAXA and NASA. During her talk she will look at the crossover between Science and Manga looking at how different approaches can be used to get scientific information across to different audiences. In addition Hayanon will look at her career, her approach to different topics and the influences on her professional work.
The UCD Centre for Japanese Studies (JaSt) is co-hosting this special event.
Register here: www.bit.ly/MangaforScience