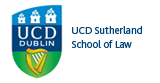 UCD Sutherland School of Law Guest Lists
The General Data Protection Regulation ("GDPR") came into effect in May 2018. Since then, the policy of the UCD Sutherland School of Law has been to contact only individuals who have specifically subscribed to our guest lists. Please note, if you have previously been invited to our events, we won't be contacting you unless you've signed up to our lists (or are one of our alumni*).

This applies to events such as Distinguished Guest Lectures, Seminars, Conferences, Book Launches etc that we host in the Sutherland School of Law. If you would like to be added to our guest lists for events there is a simple process to follow. Firstly, click on the link below which will require you to give your name and email address. To confirm that you have subscribed, you will then receive an email which you will be required to respond to.
*If you are an alumnus of the UCD School of Law, the UCD Alumni Relations Office will have been in touch separately about this matter.
Please note that you may unsubscribe at any time to the database by emailing law.events@ucd.ie or clicking unsubscribe on the latest communication that you receive from us.