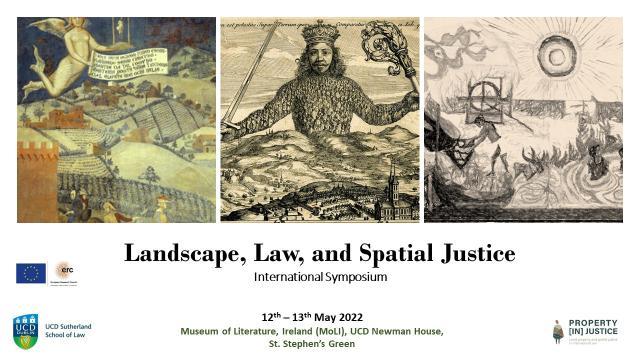 The ERC project PROPERTY [IN]JUSTICE at the UCD Sutherland School of Law are hosting the Landscape, Law and Spatial Justice international Symposium 2022. This is an in person event and will take place on the 12th and 13th of May at Museum of Literature, Ireland (MoLi), UCD Newman House. St. Stephens Green.
Click here for further information and registration details.
Landscape is a central subject of inquiry in multiple disciplines including geography, planning, architecture, ecology, archaeology, and visual arts, yet the discipline with arguably the most influence on landscape – law – is largely absent from landscape scholarship. Law conceptualizes land primarily as property, and the interpretation of property rights in land emphasizes abstract qualities of ownership and alienability. This is at odds with the lived-in understandings of land that predated property when land was originally characterized by a symbiotic relationship between people and place, or landscape (Olwig 1996).
You can register here for the Landscape, Law, and spatial Justice Symposium.