Public Law Seminar Series July 2021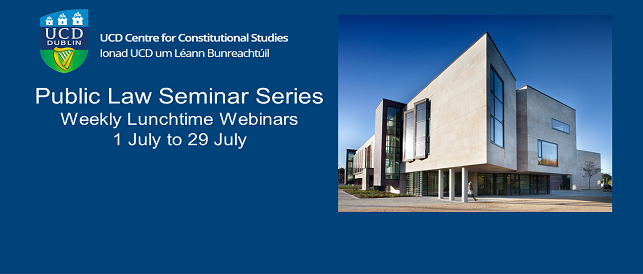 We are pleased to announce that the Centre for Constitutional Studies will host a series of lunchtime seminars over the next five weeks. Presented by Professor Eoin Carolan SC, these seminars will cover important recent developments in specific areas of Irish public law. The seminars are delivered by leading practitioners and will provide an invaluable update for those practising in these areas.
The seminars will take place at lunchtime on Thursdays (from 1.10 PM to 1.55 PM), with the first of these on 1 July 2021.
Schedule
1 July Patricia Brazil BL
Recent Developments in Asylum and Immigration Law
8 July Paul Brady BL
Recent developments in the law and practice of wardship
15 July Ailbhe O'Neill BL
Zalewski v Adjudication Officer - Implications for Regulators
22 July Aoiffe Moran, Connor Cassidy and Aishlinn Gannon of Matheson Solicitors
The evolving landscape in corporate liability and accountability
29 July Brian Foley SC & Rachel Minch of Philip Lee Solicitors
Recent developments in access to information
Registration Now Open.
The fee to attend is €20 or €50 for all 5 seminars*.
The webinar will commence at 1.10 PM sharp and conclude at 1.55 PM.
The event will be hosted via Zoom Webinar.
Attendees register on this website and the Zoom link will be emailed afterwards with a personalised passcode.
*There is no charge for the members of the UCD Centre for Constitutional Studies - please email law.events@ucd.ie for details.