UCD Institute of Criminology Lecture
23rd June 2017, 11.00-13.30
'Patrolling the borders of risk: the new bifurcation of probation services in England & Wales'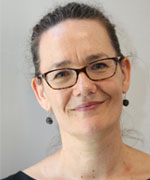 Dr. Gwen Robinson (Sheffield) will deliver the inaugural lecture in the UCD Institute of Criminology lecture series. Professor Ian O'Donnell (UCD) will deliver the opening address and Vivian Guerin, Director of the Probation Service, will deliver a response to Dr Robinson's lecture. Guests are invited to a light lunch served in the Gardiner Atrium of the UCD Sutherland School of Law.
There is no charge to but, due to limited seating capacity, registration is necessary. Please register in the panel below.

LECTURE PROGRAMME
11.00 Opening address – Professor Ian O'Donnell (UCD)
11.10 Patrolling the borders of risk: The new bifurcation of probation services in England & Wales – Dr Gwen Robinson (Sheffield)
12.10 Response – Vivian Guerin (Director, Probation Service)
12.30 Lunch
Please book your place at the link below.