Annual trip to Brussels and Luxembourg - Visit the EU Institutions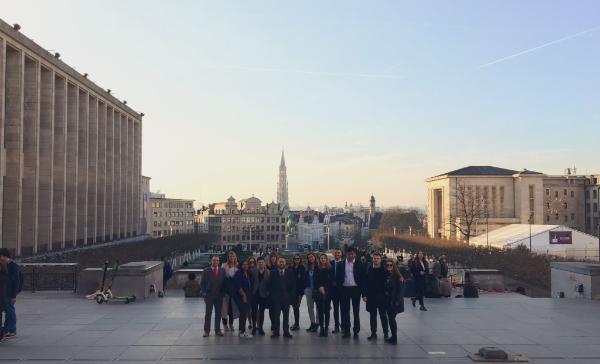 Every year the Law School organise, jointly with the School of Politics, a bespoke field trip to Brussels and Luxembourg to visit the EU Institutions. This year's trip is due to take place on March 16th-20th, 2020.
This year we will be taking 6 students from the Law School and 6 from the School of Politics on the trip. Places are allocated on a first come first served basis. The trip is open to Graduate Law students and Final Year undergraduate law students in the Law School.
As part of this trip, students visit the EU institutions in Brussels and the Court of Justice of the European Union in Luxembourg, meet Commissioners, Judges of the Court of Justice, Members of the European Parliament, Brussels based lobbyists and NGOs, attend a UCD alumni reception with the Irish ambassador, in addition to a host of other events over the five day trip.

The purpose of the trip is to provide you with an insight into how the European Institutions function, and the experience and contacts to build an international career. Every year many students return to Brussels to take up a job. This was often a result of who they met on this trip, so it is an opportunity that you should not miss if you are interested in a career in Brussels, or the European Union's regional offices outside of Brussels.

The cost of the entire trip is estimated to be approximately €500 (excluding flights). Flights have to be booked individually by students in consultation with the trip organisers and are not included in the €500. The fee covers transportation, 4-days accommodation, meals, and miscellaneous expenses.
One scholarship will be available for each school which will cover up to €500. There may also be additional funding made available via the UCD Sutherland Opportunity supported by Mason Hayes & Curran at a later date.
Please email
ronan.riordan@ucd.ie
by Friday 4th October at the latest if you are interested in attending, or if you have further questions about the trip.
An information meeting will be orgainsed on the 9th October for those who express interest by email. Further details about this meeting will be provided to those who contact Ronan Riordan.