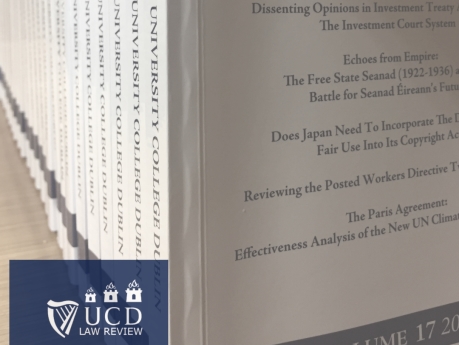 THE UCD LAW REVIEW IS CURRENTLY SEEKING SUBMISSIONS
The 2021 volume of the UCD Law Review is now being prepared for publication. The Review welcomes submissions for its 2022 volume. Potential contributors may contact the Review at ucdlawreviewsubmissions@ucd.ie
The Editorial Board seeks academic legal articles from both undergraduate/postgraduate students, recent graduates and practitioners.
We publish articles from a wide variety of legal fields, and are always interested in submissions that represent an original perspective, or discuss innovative occurrences.
Criteria for Submissions
•Between 5,000 and 10,000 words in length.
•Not published previously.
•Formatted in Microsoft Word.
•The University College Dublin Law Review house style of citation is OSCOLA 2010 (see http://www.law.ox.ac.uk/publications/oscola.php).
•Late submissions may be considered at the discretion of the Editor.
Submit
By email: UCDLawReviewSubmissions@ucd.ie
By post: UCD Law Review Editorial Board, Sutherland School of Law, Belfield, Dublin 4, Ireland
The email or letter should contain the Author's name, year of study or graduation and contact details. The selection process is entirely anonymous so please do not include any indicators of identity in the submission itself.
For more information go to http://www.theucdlawreview.com/