Vincent Keaveny To Receive 2018 UCD Alumni Award in Law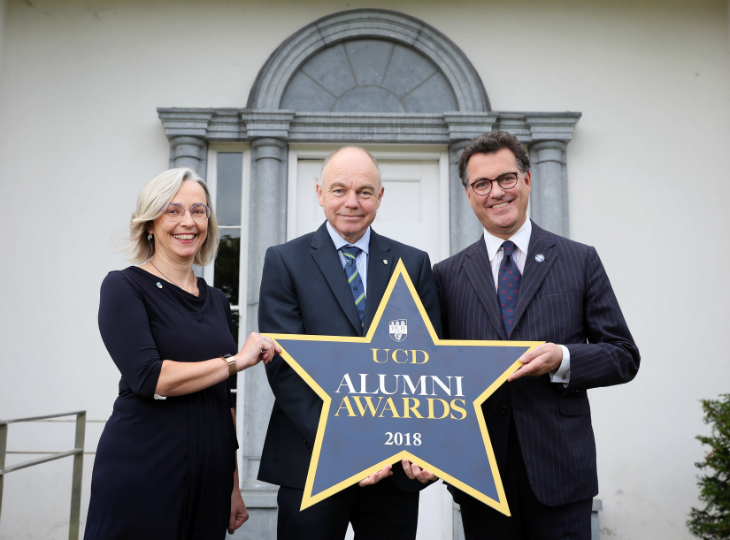 Pictured Above L-R (Prof Imelda Maher, UCD President Prof Andrew Deeks, Vincent Keaveny)
The UCD Alumni Awards proudly celebrate and honour the outstanding achievements of our alumni who uphold values that UCD holds dear – integrity, excellence, collegiality, engagement, creativity and diversity – values that we believe are in the DNA of our University.

The recipient of the 2018 UCD Alumni Award in Law is Vincent Keaveny.

Vincent Keaveny is a partner at international law firm, DLA Piper LLP, and a highly regarded practitioner having had a stellar career advising banks and companies throughout the UK and Europe on banking, finance and capital markets matters. He is an outstanding role model for UCD Law students and is supportive of their learning, while his firm is most accommodating with internships and student visits.

Vincent was one of the City of London's 25 Alderman in 2013 and was recently elected as one of two City of London Sheriffs for 2018-2019, a title dating back to the 14th century. Vincent is passionate about Music and Theatre and is a trustee of the music ensemble Exaudi, the Actors Theatre Company and is on the board of the Sir John Soane Museum.

With over 240,000 alumni living in 165 countries around the world, the UCD network is influential, successful, active – and truly international. Our graduates are the standard bearers for our reputation and it is largely because of them that the value of every UCD degree continues to be enhanced.

UCD alumni are the backbone of this great institution. Their successes reinforce UCD's position as Ireland's leading global university; their loyal involvement with UCD shapes the future of the University.