The 2018 V.V. Giri Lecture
The College of Social Sciences and Law was delighted to host the 2018 V.V. Giri Lecture in the Sutherland School of Law on May 23rd, 2018. College Principal, Professor Colin Scott, and Dean of Law, Professor Imelda Maher, were pleased to welcome the Indian Ambassador, HE Mrs. Vijay Thakur Singh to the lecture, along with many distinguished members of the Indian community. The lecture series commemorates the fourth President of India, VV Giri (1894-1980) who spent the years 1913 to 1916 as a law student at University College Dublin and the King's Inns.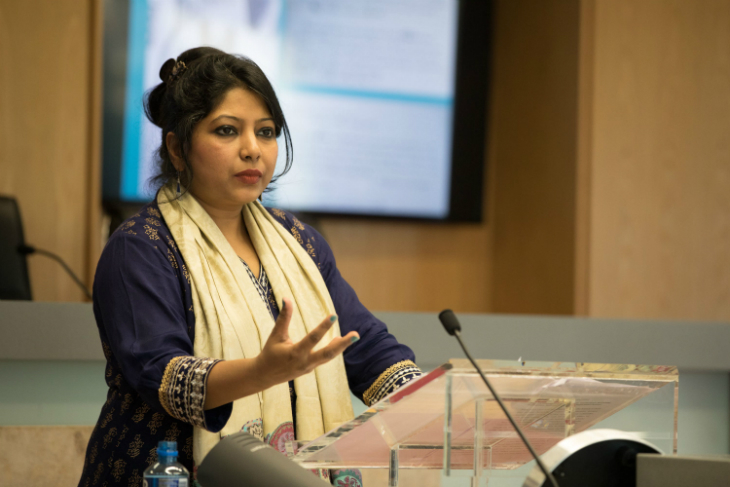 Pictured Above: Dr Jyoti Atwal delivers the 2018 V.V. Giri Lecture
Professor Jyoti Atwal from Jawarharlal Nehru University in New Delhi was the distinguished guest invited to deliver the 2018 lecture. Her lecture focused on the topical theme: "Margaret Cousins (1878-1954) in India and Ireland: Revisiting Suffragettes, National Ideals and Anti-Imperialist Politics". To introduce Professor Atwal, Dr Conor Mulvagh of UCD School of History placed it in the context of the intellectual, cultural and political links between Ireland and India in the early and mid-twentieth century. Professor Atwal's lecture examined how Margaret Cousins, who lived in India from 1915 until her death, played a critical role in the emergence of the Indian feminist movement and particularly in the founding of the All India Women's Conference in 1927. She traced how her activism in India was influenced by her experiences as a suffragette in Ireland and her reaction to the Easter Rising, during which her friend Francis Sheehy Skeffington was killed. This helped to confirm her commitment to non-violence and her alignment with Gandhi's views as to how India's national freedom and women's freedom should be pursued. Particular points of interest for Professor Atwal were the attitude Cousins took to issues of class, religion and caste as they affected the women's movement, her experience as the first woman to be appointed a magistrate in India and her personal engagement with Hindu spirituality, which she approached in a distinct way from many Theosophists and other European attracted by Indian culture. In particular, her experience of imprisonment in Ireland as a suffragette was an important factor in her approach to being imprisoned in India. The closing remarks were delivered by John O'Dowd of UCD Sutherland School of Law in which he placed Professor Atwal's lecture in the broader context of the debate over whether the Irish were mainly victims or vectors of British imperial rule at home and abroad.
Pictured Above L to R: Professor Colin Scott, HE Mrs. Vijay Thakur Singh, Professor Jyoti Atwal and Professor Imelda Maher