42nd Annual Bank of Ireland Student Awards
UCD Sutherland School of Law congratulates our prizewinning students who were recently awarded medals by The Hon. Mr Justice Michael MacGrath. In Stage 1 the awards are given for a Tort Essay Competition and in Stages 2, 3 & 4, the top 3 students for their overall performance across all law programmes. We are very grateful to Bank of Ireland and the Student Store at their Montrose branch for their consistent and generous support of this event which is now in its forty second year.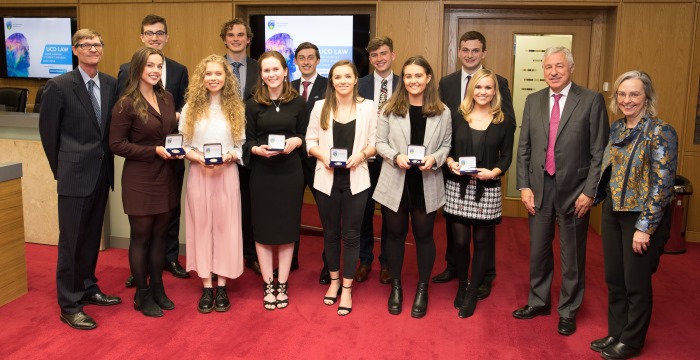 Prizewinners with Associate Dean of Law (left), Mr Justice Michael Mac Grath (second from right) and Dean of Law, Professor Imelda Maher (right)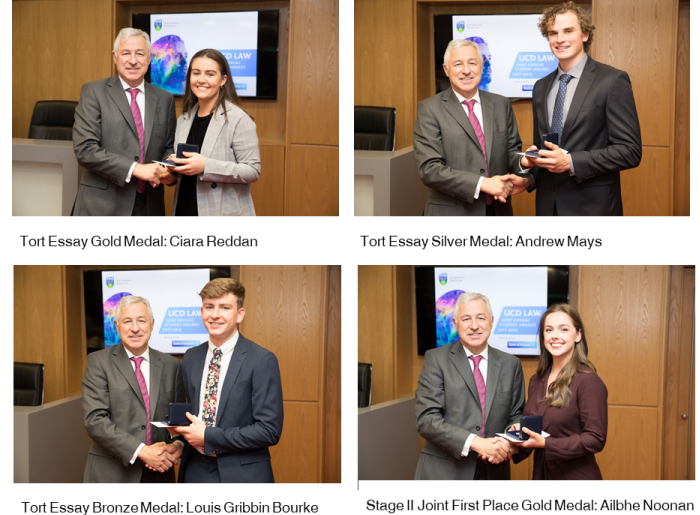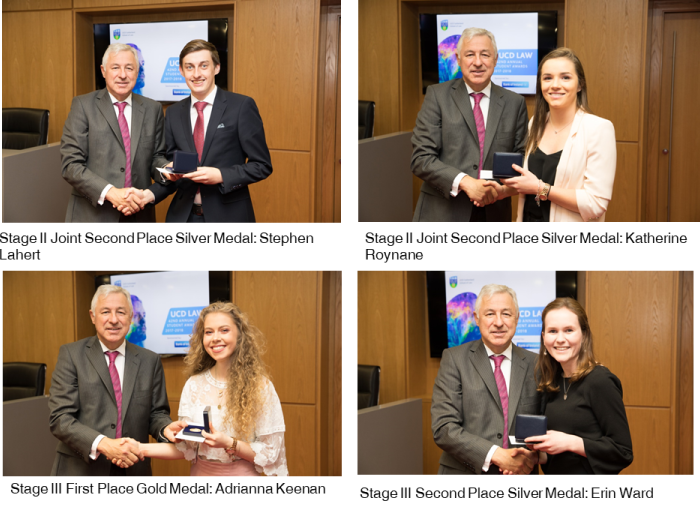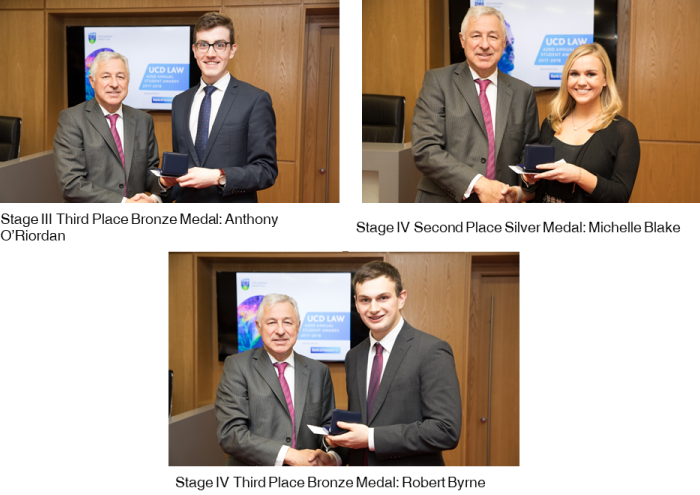 Note: Joint Stage II First Place Gold Medal winner Tara Sullivan and Stage IV Gold Medal winner Conor Gallagher are both abroad studying and their awards were collected by their parents.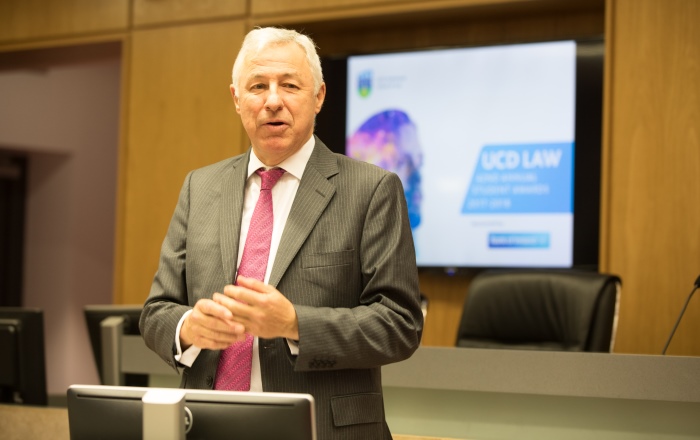 Mr Justice Michael MacGrath speaking at the Awards Ceremony
The Bank of Ireland Prize Giving was first initiated by the late Dr Mary Redmond in 1976 and originally was awarded for the best Human Rights Essay. Over the years, the awards have extended to include prizes for top students in every year.
Many of our other prizewinners have gone on to pursue distinguished academic careers both overseas and at home, for example, Professor Walter Walsh of the University of Washington and Professor Gráinne de Búrca of New York University. The first prize winner Professor Brian Havel is currently Director of the Institute of Air & Space Law at McGill University and the first female prizewinner Professor Deirdre Curtin is Professor of European law at the European University Institute of Florence. Furthermore, no less than eight of our current staff are also previous prizewinners including our Dean, Professor Imelda Maher. Beyond academia, our former prizewinners include many members of the judiciary such as Síofra O'Leary, judge at the European Court of Human Rights. Judge O'Leary herself recently returned to the School to deliver this year's Walsh Lecture. Closer to home, former winners include Paul Coffey, Brian Cregan, Richard Humphreys and Aileen Donnelly, all judges of the High Court. The judicial involvement has made the Prize Giving the success that it is today.