Máirín de Burca Awarded Honorary Degree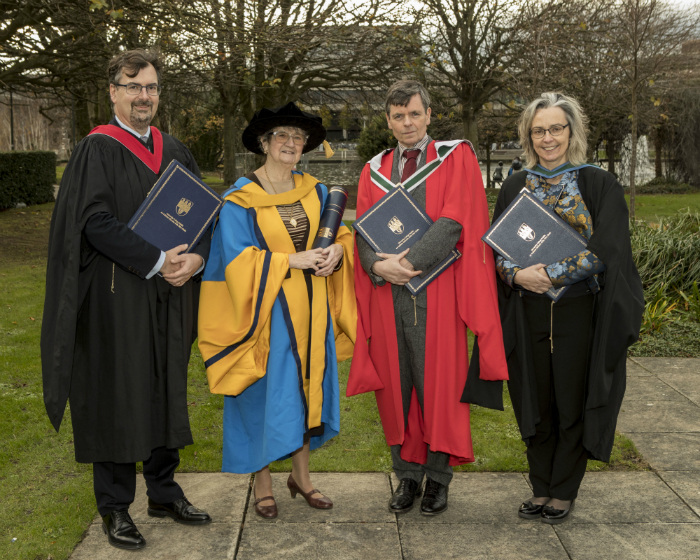 Pictured Above L-R: Prof Colin Scott, Máirín de Búrca, Dr Kevin Costello, Prof Imelda Maher
Social activist Máirín de Búrca rose to prominence as a co-founder of the Dublin Housing Action Committee (DHAC) in the late-1960s. A committed pacifist, she used civil disobedience and court action to achieve her aims.

Using the legal system to challenge injustice was a well-established political tradition, said Dr Kevin Costello, UCD School of Law, who delivered the citation. De Búrca is "perhaps the foremost exemplar of that phenomenon in Irish history."

Amid a chronic housing shortage, mass evictions and long waiting lists, de Búrca founded the DHAC to provide hundreds of families with homes by occupying and fitting-out unoccupied housing.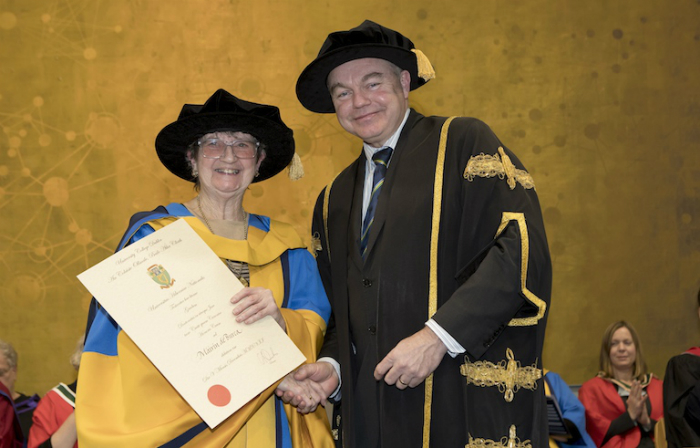 Pictured Above: Máirín de Búrca receives Honorary Degree of Doctor of Laws from UCD President Professor Andrew Deeks.
In De Burca and Anderson v The Attorney General the Supreme Court upheld her complaint that it did not allow for juries that were socially-representative and the law was changed.

She campaigned against apartheid, the Vietnam War and U.S. President Richard Nixon's 1970 visit to Ireland. She was a leader in the Irish women's rights movement, the campaign for a minimum wage and a founder of the Prisoner's Rights Organisation.

In Keegan v De Burca (1973) the Supreme Court judge, Mr Justice McLoughlin found against her. But he concluded his judgment with sentiments which express the reasons for respect in which she is held within Irish public opinion: "I admire Máirín de Búrca for her humanity and compassionate concern for the underprivileged, and admire her for her courage in sacrificing her liberty on their behalf."