Brexit and Human Rights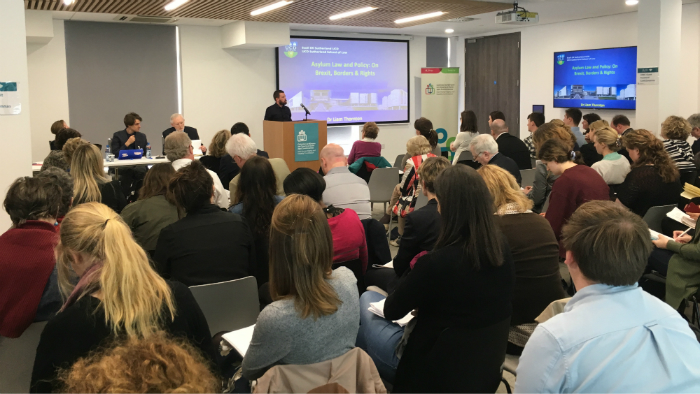 UCD Sutherland School of Law continues to lead legal and political conversations on the impact of Brexit for Ireland, Europe and the wider world. On Wednesday, May 3 2017, Dr Liam Thornton convened a seminar on Northern/Ireland After Brexit: Exploring the Human Rights Impact. Attended by over 70 delegates, from practitioners, civil society, the civil service and students, the seminar offered reflections on the potential human rights impact of Brexit on the island of Ireland. Chaired by Michael Farrell, Colin Murray, Dr Anne Smith, Dr Catherine O'Rourke, Suzanne Egan and Dr Liam Thornton, explored varied areas that Brexit will have a human rights impact. Michael Farrell noted the significant rise in racism and xenophobia that has arisen post-Brexit and reminded delegates of the significant impact Brexit may have on the peace settlement in Northern Ireland. The UCD Centre for Human Rights sponsored this event.

Colin Murray noted how current political discussions around customs borders did not resolve the human rights issues that will arise due to Brexit. As the European Union Charter of Fundamental Rights would no longer apply, this raised issues of comparability of rights protections between Ireland and Northern Ireland, provided for under the Good Friday/Belfast Agreement. Murray noted that the Irish government needed to ensure strong rights protections within Brexit negotiations.

Dr Anne Smith meanwhile pondered what silver linings may exist in a post-Brexit era. While admitting such silver linings may be elusive, Smith reflected on the need to re-invigorate the Bill of Rights for Northern Ireland. Speaking of her work with others, on drafting a model Northern Ireland Bill of Rights, Smith discussed the huge support for the Good Friday/Belfast Agreement on both sides of the border. The silver lining within the post-Brexit era may, Smith argued, be cross-political party support for maintaining a strong level of rights through the Northern Ireland Bill of Rights.

Sticking with the theme of potential solutions to maintaining rights equivalence, UCD Centre for Human Rights Director, Suzanne Egan, examined the potential development of a Charter of Rights for the Island of Ireland. Brexit, Egan states, would be a "complete game-changer" as regards rights protection on these islands. Noting the limits of this Charter debate previously, Brexit, Egan argued, that there was a need for cross-jurisdictional engagement from political actors in order to ensure the protection of international legal obligations for rights equivalence. What was urgently needed, was a full scoping of differences in rights protections between Northern/Ireland that needed to be resolved within the Brexit negotiations.

Dr Catherine O'Rourke placed Brexit within its global context, focusing on women's rights on these islands. O'Rourke noted that Brexit occurred in an atmosphere of suspicion towards internationalism. Reflecting on the impact EU law has had on women's rights more broadly on these islands, O'Rourke noted that women's rights organisations were lead innovators in progressing women's rights on the global stage, and this will become even more significant in the post-Brexit era. While acknowledging the significant negative impact the EU had as regards women's rights in austerity and rights of refugee women, the EU has broadly added significant protection for women's rights. Would a focus on international legal obligations, in particular under the UN Convention on the Elimination of All Forms of Discrimination Against Women (CEDAW), O'Rourke pondered, enable protection of rights of women in the post-Brexit landscape?

The final contributor, Dr Liam Thornton examined the impact of Brexit on asylum law and policy in Ireland. Noting that Ireland and the United Kingdom are suspicious partners within the Common European Asylum System, Thornton reflected on some of the core reasons why this is the case. With a focus on the Common Travel Area (CTA), Thornton explored how the existence of the CTA has led to Ireland's asylum laws and policy being overly influenced by the UK's deep suspicion to European Union legal rules on asylum and refugee rights. Tracing the political and legal impact of the CTA on Irish asylum law and policy, Thornton outlined three potential paths, some negative, some positive, that could occur within the post-Brexit legal landscape in the area of asylum law and policy.

You can access a Storify of the event here.
Pictured Below L-R: Dr Catherine O'Rourke, Dr Anne Smith, Suzanne Egan, Michael Farrell, Colin Murray, Dr Liam Thornton.