Final Year Student Andrea Whelton recognised for her voluntary work
Congratulations to final year Business and Law student, Andrea Whelton, who was recently featured in the annual report on Student Volunteering from Campus Engage, the national network for civic and community engagement in higher education. Their annual report for International Volunteer Day showcased impactful student volunteering across a wide range of community activities.
The report featured case studies from ten Higher Education Institutions and Andrea was highlighted as example of a UCD student who excels in her voluntary work, both within UCD and internationally. She first joined UCD Volunteers Overseas (UCDVO) in 2016, taking part in a four-week education project in Ruaha, Tanzania, teaching computer literacy and English to teachers in a primary school. Enjoying the project so much, she returned the following year in a leadership role, overseeing a group of 14 volunteers. Wanting to continue her volunteering back home, Andrea joined Enactus UCD, a group of students, academics and business leaders that develop social enterprise to help solve societal problems. Through Enactus, she volunteered with HeadstARTS, a project that provides art, drama, music and dance classes to people with intellectual disabilities. Fast-forward to today and Andrea is focusing her volunteering in her local community and seeing what change she can make locally. Volunteering has helped her to develop a broad range of skills: self confidence, teamwork, problem-solving, leadership, planning, adaptability and much more. It has also allowed her to learn about different experiences and cultures, as she has worked with diverse groups from all over the world.
We congratulate Andrea on her outstanding volunteering work both at home and abroad.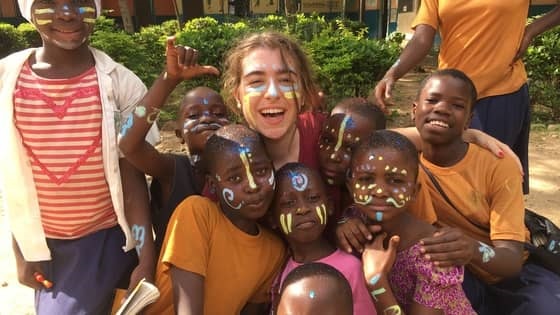 Andrea with some local children on her last volunteering programme - "I think volunteering has also allowed me to look at the world in a different way, and be more conscious of the social problems that exist in the world. Volunteering has been my favourite part of my time being in college, and I wouldn't change my experience at all."