Conor White, Law with Economics, receives UCD Astra award for outstanding academic achievement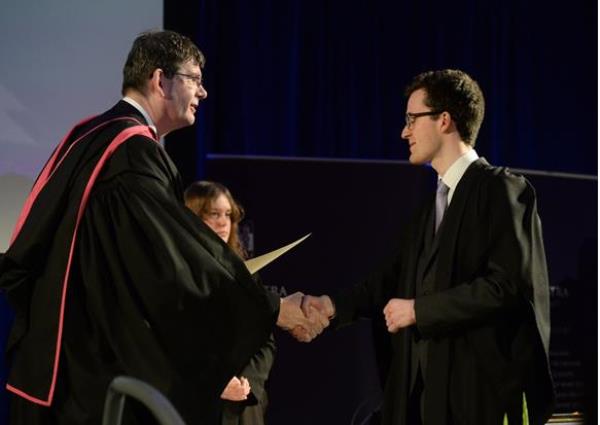 In a recent awards ceremony, the UCD Ad Astra Academy welcomed new students who had been awarded scholarships based on their high academic achievement levels. The UCD Sutherland School of Law congratulates, Conor White, Law with Economics on his excellent achievement. He is pictured above receiving his award from Professor Mark Rogers, Registrar of UCD.
Conor is one of six Ad Astra Academic Scholars who are students in the UCD Sutherland School of Law. They are Jamie McLoughlin studying Law with Politics, Eoin Mac Lachlan, Robert Lee and Tara Casey, all students of Law with Economics and Conor Gallagher studying Business and Law.
The Academy also recognises scholars who excel in Sports and the Performing Arts. In the area of sports, the Sutherland School of Law is extremely proud of all of the students who are members of the Ad Astra Academy, they are Deirdre Duke, Gillian Pinder and David Nolan for hockey, Gary Ringrose and Jeremy Loughlin for Rugby and Chloe Mustaki and Conor O'Donnell for Soccer. We also celebrate our two Ad Astra Scholars in the area of the Performing Arts, Roger Berkeley (Music) and Ause Abdelhaq (Drama).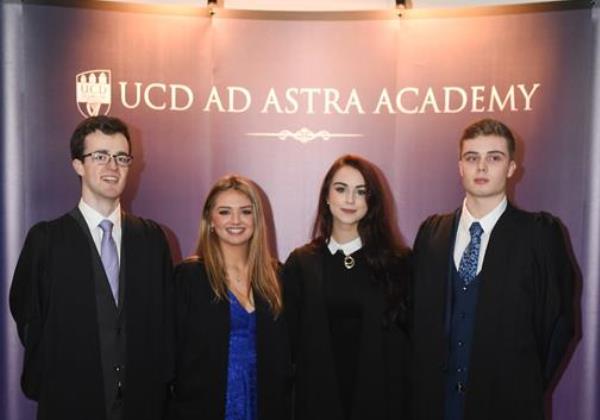 Conor White pictured with Ellen O'Reilly, Cathy Brown and Domantas Jagutis, stage one students of Economics and Finance.