New Art Installation for Sutherland School of Law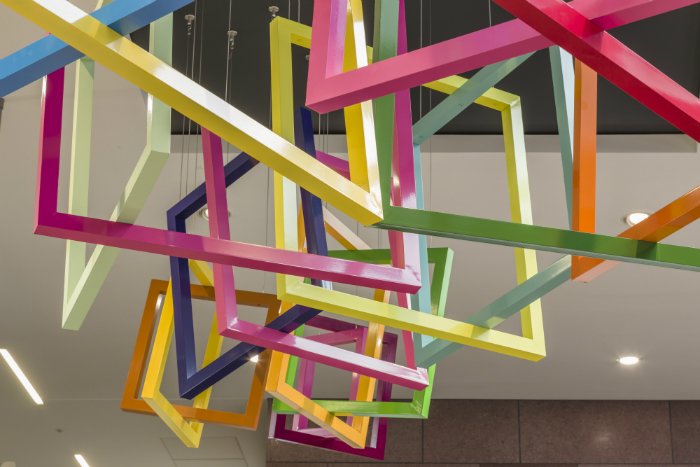 The inspirational art installation Croí, was commissioned by McCann FitzGerald, who have kindly donated the piece to the UCD Sutherland School of Law.

This vibrant, kinetic artwork was created as a focal point and complementary centrepiece for the School's spacious atrium. The artist, Martina Galvin, describes the piece as 'an explosion of the joyous celebration of colour' and her inspiration was derived from the dynamic nature of the students, staff and visitors engaged in the discussion of the law within the School. The artwork is formed from an intriguing interconnection of colourful cubes of varying sizes which can be viewed from different viewpoints including the entrance to the School, the ground floor atrium and first floor gallery. The size, intricate shape and vibrant colour palette of Croí all contribute to the powerful impact that this piece will have on the community of the Sutherland School of Law into the future.

Croí is the culmination of the Law into Art Project sponsored by McCann FitzGerald a student essay competition on the theme, which was won by Elaine Egan, a recent Law with French Law graduate, for her essay on legal history.

From McCann FitzGerald we would like to thank Mr. Barry Deveraux, who was the driving force behind this project, Ms. Sarah Begley, Ms. Denise Kenny, Ms. Valerie Lawlor, Ms Judith Lawless and Mr. David Byers.
Croi slide show from UCD Sutherland Law on Vimeo.