Professor Gavin Barrett is runner-up in the UCD Research 2019 Impact Competition
He was awarded for his work 'Democracy in the European Union – getting it right'
UCD Sutherland's Professor Gavin Barrett was honoured recently in the university-wide UCD Research 2019 Impact Competition, in which he was a runner-up. Professor Barrett's award was for the impact of his research concerning democracy in the EU. His work has looked in particular at the role of parliaments, the operation of referendums, and the sensitive field of justice and home affairs. A video of Professor Barrett outlining details of his research can be viewed here.
Through his research, Professor Barrett has identified various lacunae in democratic controls, including the inadequate (though still evolving) involvement of national parliaments in European affairs, which he analysed extensively in an edited book, an Oireachtas-published report, and a book published by Manchester University Press, as well as in numerous articles and book chapters.
Professor Barrett has also researched Irish referendums (especially EU-related ones), publishing articles in international peer-reviewed journals and book chapters. He co-authored (with then-colleagues in UCD Professors Brigid Laffan, Ben Tonra, Dan Thomas and Rodney Thom) a report laying the foundations of Oireachtas policy concerning the Lisbon Treaty.
His work also played an important role in focusing attention on the illegal and discriminatory nature of voter registration procedures for non-Irish nationals in European Parliament elections, which were subsequently changed. The case study for the award is available here.
UCD Sutherland School of Law congratulates Professor Barrett on his outstanding achievement.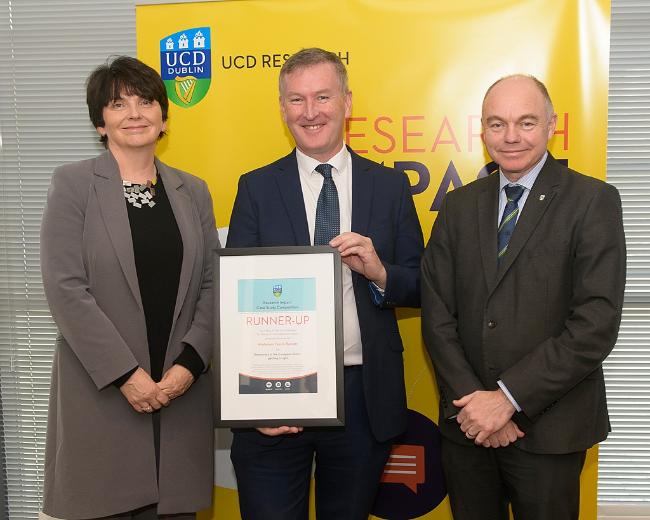 Professor Gavin Barrett receiving his award from Prof Orla Feely and UCD President, Prof Andrew Deeks