Professor Devenney Delivers Inaugural Lecture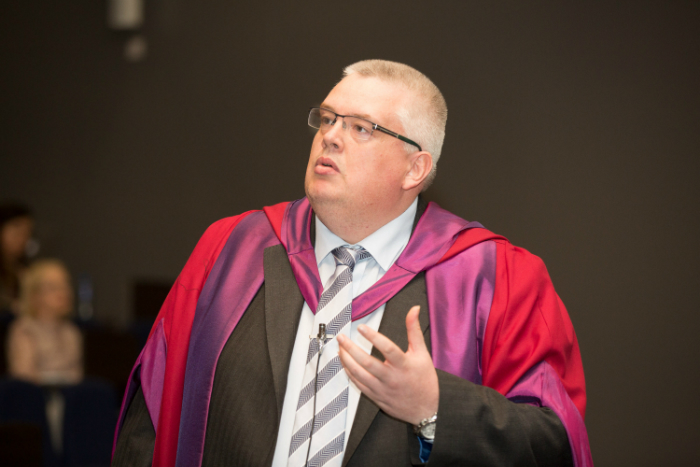 Professor James Devenney, the new McCann FitzGerald Chair of International Law and Business at University College Dublin's Sutherland School of Law, yesterday delivered his inaugural lecture entitled "Spies, Parking Tickets, Illegal Transactions and Insider Dealing". Professor Devenney reflected on four recent cases which fundamentally alter our understanding of Contract Law and have wide-reaching implications for lawyers and businesspeople alike.
Professor Devenney is currently overseeing the prestigious Master's Degree in International Law and Business offered jointly by the UCD Sutherland School of Law and the UCD Smurfit Graduate School of Business. This programme, established in 2014, offers an innovative degree for students who have successfully completed an undergraduate degree in law, business or related disciplines.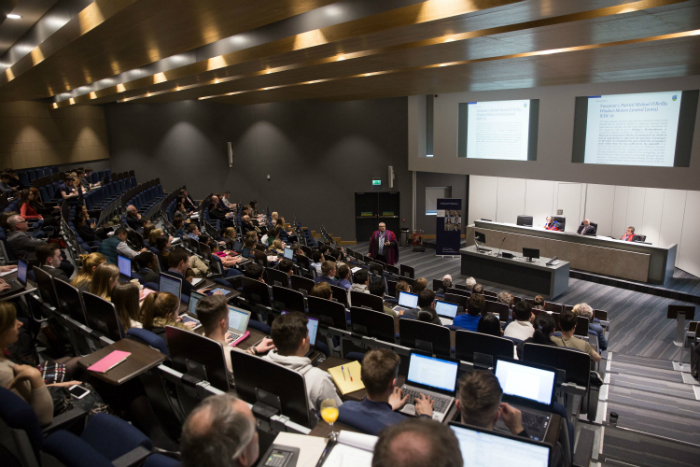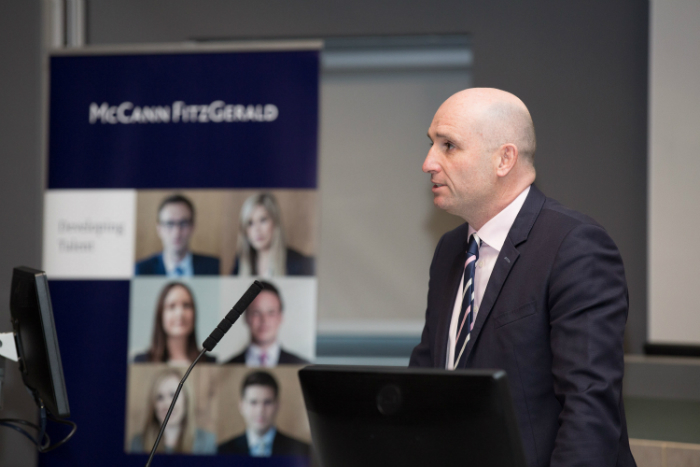 Commenting on Professor Devenney's lecture, Barry Devereux, Managing Partner of McCann FitzGerald said, "James is widely recognised as a world-leading expert on Transactional Commercial Law and his inaugural lecture showed why his insight is so valuable to international business and law, and particularly important in uncertain times for trade globally. At McCann FitzGerald we are very proud to have him represent our firm in the legal educational world and we look forward to building on our ongoing support of the Chair."
Professor Imelda Maher, Deputy Dean of UCD Sutherland School of Law said, "We were delighted that Professor James Devenney took up the role as McCann FitzGerald Chair in International Law and Business. His insightful and thought-provoking inaugural lecture is a real demonstration of the expertise he has already brought to the position and we look forward to him continuing to build on this work."
Professor Devenney chose four cases to represent some important recent and ongoing developments in the law of contract in the UK and Ireland. The first was Attorney General v Blake [2001] 1 AC 268 concerning the proper method of assessing damages for breach of contract if the breach has generated a profit for the defendant without a corresponding loss for the plaintiff. The House of Lords held that, in exceptional cases, it may be just and equitable to order the defendant to pay damages corresponding to some or all of the profit made, where the plaintiff's interest in performance of the contractual obligation warrants this. It remains unclear how exceptional this should be, where the notion of an "efficient breach" (ie that society benefits by allowing a defendant to retain whatever profit from the breach that exceeds the plaintiff's loss) now stands and how Blake relates to cases on damages for a lost opportunity to bargain for the defendant's release from the contract.
The second case that Professor Devenney examined was ParkingEye Limited v Beavis [2016] AC 1172. The UK Supreme Court here rejected the sharp distinction between a penalty clause (unenforceable) and a genuine pre-estimate of the damage caused by a breach of contract (enforceable). Instead, the court should examine a provision by asking whether the "the impugned provision is a secondary obligation which imposes a detriment on the contract-breaker out of all proportion to any legitimate interest of the innocent party in the enforcement of the primary obligation." (Lord Neuberger and Lord Sumption). As with Blake this emphasizes the injured party's interest in performance and requires a more sophisticated analysis of this than the nineteenth centuries cases employed. It is not fully clear how this new approach will be applied and how it relates to the law on relief against forfeiture.
James Devenney Lecture from UCD Sutherland Law on Vimeo.
Professor Devenney finished by looking at two cases - Patel v Mirza [2016] UKSC 42 and Quinn v Irish Bank Resolution Corporation Ltd (In Special Liquidation) [2015] IESC 29. The highest courts in England and Wales and in Ireland agree that the law in relation to the enforceability of illegal contracts (and restitution of money paid or property transferred under them) needs to be more flexible. However, if the prevailing view in England and Wales is that the circumstances of each case need to be assessed (such as the seriousness of the breach or the degree of culpability of each party), the Irish position is that each statutory scheme should be analysed to decide what the consequences of illegality should be, but that all cases falling within each statute should be treated alike.