GDPR Forum hosted in Sutherland School of Law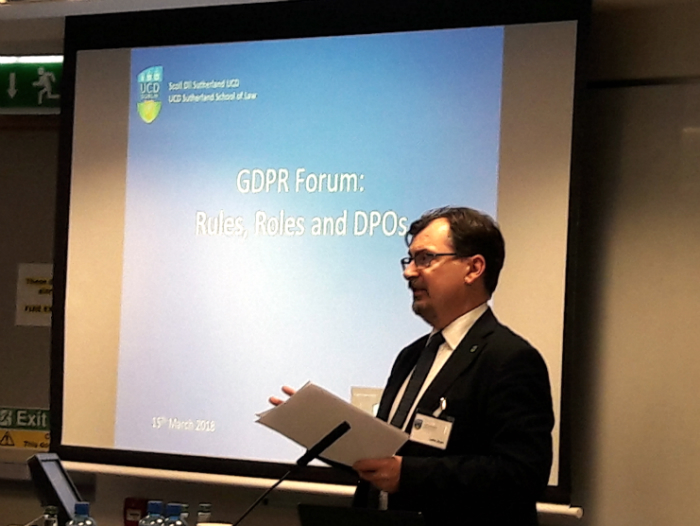 Prof Colin Scott launching the GDPR Forum
Close to fifty professionals attended UCD's Sutherland School of Law GDPR Forum on 15 March 2018. Professor Colin Scott, VP for Equality, Diversity and Inclusion College Principal, UCD College of Social Sciences and Law opened the event by giving an overview of the current state of play.
The 1-day event was aimed at lawyers, compliance specialists, data protection officers and professionals responsible for advising on the implications of the GDPR. Industry experts and leading academics spoke on a variety of topics; the position of the Data Protection Officer (DPO) within the organisation, Day 1 versus Day 100 as the DPO, the future of the DPO and building a privacy programme. All the speakers provided valuable insights into the real world application of the GDPR and the role of the Data Protection Officer.
Speakers included Dr TJ McIntyre (Sutherland School of Law), Emma Redmond (Senior Director and Head of EU Data Protection, Ancestry.com), Mark Crosbie (Global Head of Trust and Privacy, Dropbox), Dr. Denis Kelleher (Head of Privacy EMEA, LinkedIn) and Daragh O'Brien (Castlebridge).
Professor Imelda Maher, Dean of Law, Sutherland School of Law closed out the event and spoke of the School's aspiration to create a professional diploma or certificate on the back of the forum. The feasibility of this is currently being assessed.