Dr Joe McGrath secures Fulbright Scholarship at UC Berkeley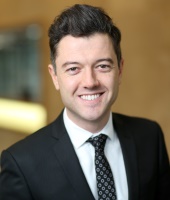 Congratulations to our colleague, Dr Joe McGrath who has secured a prestigious Fulbright award for the academic year, 2021-2022. Joe takes up a coveted research role as a Fulbright Scholar at UC Berkeley. He will research a project entitled "Punishing Privilege" in which he investigates the extent to which federal responses to white-collar crime are formally punitive but practically lenient. In particular, the award supports his research with Dr. Deirdre Healy into how legal responses to wrongdoing vary by reference to gender, race and elite status.
Dr McGrath has published extensively in the field of white-collar crime and organisational culture. His first monograph, Corporate and White Collar Crime in Ireland: A New Architecture of Regulatory Enforcement, was published by Manchester University Press. His second book, White Collar Crime in Ireland: Law and Policy, which he edited and co-authored, was published by Clarus Press. He has also published in the leading international peer-reviewed journals in his fields, including the European Journal of Criminology, Justice Quarterly, and Punishment and Society.