Launch of "European Environmental Law"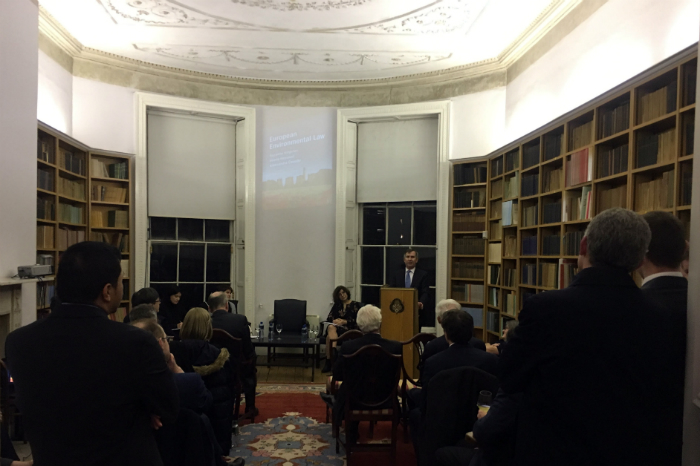 Pictured Above: The Hon Mr Justice David Barniville speaking at the recent book launch
To mark the launch of "European Environmental Law", recently published by Cambridge University Press, The Hon. Mr. Justice David Barniville chaired a debate on "Transformations in European Environmental Law". Speaking at the debate were the three authors of the book; Dr. Aleksandra Čavoški of the University of Birmingham, Dr. Veerle Heyvaert of the London School of Economics and Professor Suzanne Kingston BL of the Sutherland School of Law. Also speaking in the debate was Dr Áine Ryall BL of University College Cork, and Vice-Chair of the Aarhus Convention Compliance Committee. We are grateful to the Royal Society of Antiquaries of Ireland for hosting the evening's event.
"European Environmental Law" provides a critical and comprehensive account of the key issues in European environmental law and adopts a contextual interdisciplinary approach. Written by leading scholars, it examines increasingly important fields such as climate change law and environmental human rights law, as well as traditional environmental law topics.

Further details available here.
Pictured Below L-R: Dr. Aleksandra Čavoški, Dr. Veerle Heyvaert and Professor Suzanne Kingston BL