Inaugural Leman Award in Intellectual Property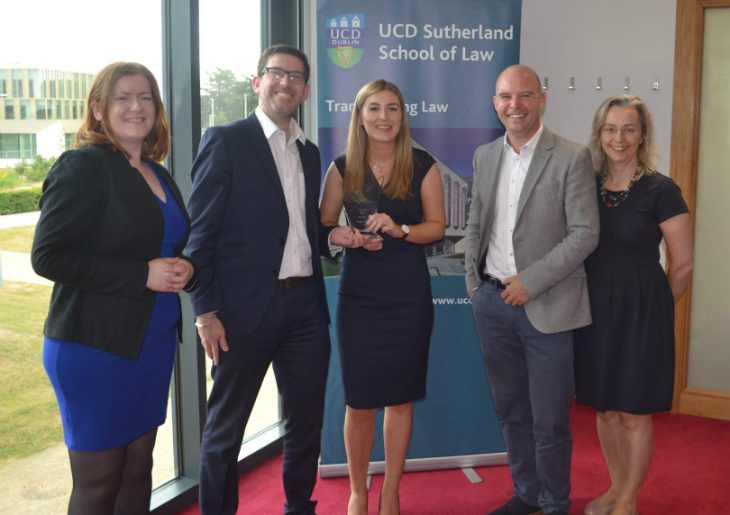 Pictured Above (L-R): Dr Cliona Kelly, UCD Sutherland School of Law; Paige Kelly, Winner of the 2018 Leman Award in Intellectual Property; Brian Conroy, Leman Solicitors Trademark & IP Litigation Specialist; John Hogan, Partner, Leman Solicitors; and Prof Imelda Maher, UCD Dean of Law
Leman Solicitors has named UCD graduate Paige Kelly as the winner of the 2018 Leman Award in Intellectual Property. The award recognises the best performance in the Intellectual Property module co-ordinated by Dr Cliona Kelly.

Ms Kelly, who just completed the Bachelor in Business & Law degree, was presented with the prestigious award, which includes a €500 prize and an offer of a work placement in Leman Solicitors. Ms Kelly is continuing her studies with a Masters at UCD Michael Smurfit Graduate Business School.

This is the first prize-giving as part of a three-year partnership to which Leman Solicitors has committed with the law school. The bursary of €2,000 per year goes towards education materials for the school and €500 goes directly to the best performing student in the IP module.

Trademark and IP litigation specialist Brian Conroy provides mentoring for the winning student and is a guest lecturer for the IP module.

In addition to the award, Leman partners with UCD for the UCD Internship Programme where a third-year law student is placed with Leman for four weeks during the summer to gain practical experience.

John Hogan, partner at Leman Solicitors, said: "We are delighted to support the UCD Sutherland School of Law through this bursary.

"Many of our lawyers have come through the course which we know to be excellent. We know how important it is for students to have real interaction with law firms and practicing lawyers, and to get practical experience before graduating. This programme allows us the opportunity to reward a student and provide a placement in our firm whilst also supporting the school.

"Paige is an exceptionally bright student with an exciting career ahead of her, she thoroughly deserves the award and we are very pleased to present her with the prize."

Professor Imelda Maher, UCD Dean of Law, added: "Support for students to excel is of great importance to the School. It's also critical for students to have some experience of the practical legal environment so we are very grateful to Leman Solicitors for this partnership."