"Managing Partners' Award" for Partnership with A&L Goodbody
At the recent 'Managing Partners' Forum Awards' in London, UCD Sutherland School of Law was honoured to win a joint award with UCD Smurfit and A&L Goodbody. The award was for 'Best collaboration with external specialists' and was in recognition of the 'Business of Law' Masters which was co-developed between UCD and A&L Goodbody. The judges were impressed with the successful partnership between a business school, a law school and a law firm and it was deemed to be a best in kind cooperation between industry and academia.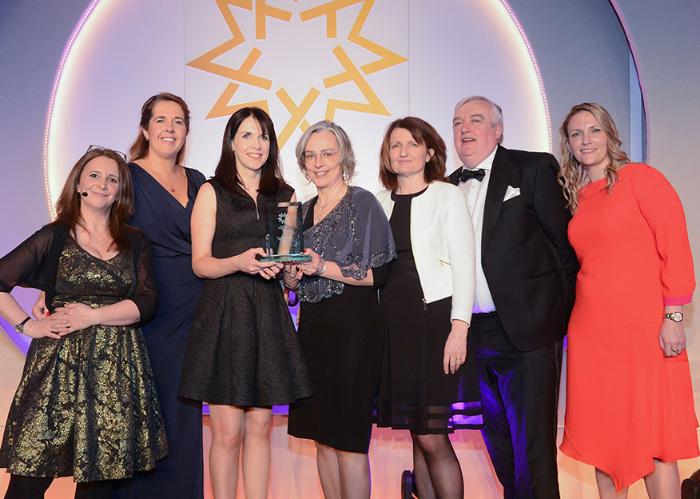 Professor Imelda Maher, Dean of Law is pictured centre with the team from A&L Goodbody. Host Lucy Porter is pictured left, and Jennifer Miller, from sponsor Vuture on the right.
The development of the Masters programme and its delivery required true joint design and execution. Outcomes and performance arising from the programme are salient. The judges felt that the partnership was likely to have longevity and expand into new opportunities. They liked that others could learn from and replicate this endeavour. Altogether, the ALG Masters was deemed to result from a remarkable enduring cooperation to strengthen the profession.
The winners of the 17th Annual Managing Partners' Forum Awards were announced at a gala dinner and ceremony at the London Marriott, hosted by stand-up comedian and comedy writer, Lucy Porter. The award received by Sutherland School of Law, UCD Smurfit and A&L Goodbody was sponsored by Vuture.