Peter Sutherland Memorial Day
Keynote speaker Ambassador William L. Swing, UCD President Professor Andrew Deeks and Dean of Law, Professor Imelda Maher
On Friday 29th March, 2019 the UCD Sutherland School of Law hosted a memorial event for Peter Sutherland. Peter was one of UCD's most distinguished alumni on both a national and international stage. Together with Peter's family, friends, former classmates and colleagues, UCD School of Law gathered to pay tribute to this accomplished man. Lauded as a humanitarian and champion of migrants, Peter built a global reputation over a lifetime of achievements in law, business and international affairs.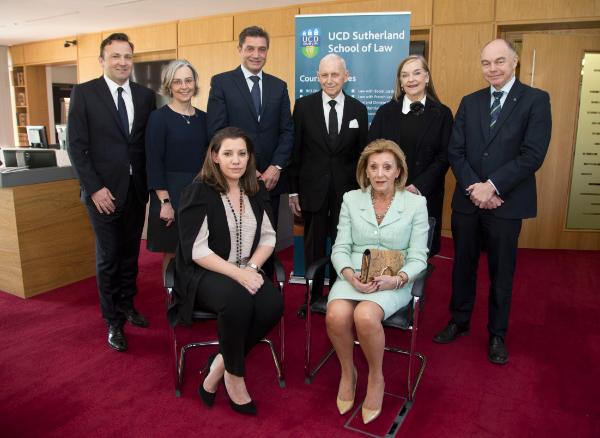 Professor Imelda Maher Dean of Law, Keynote Speaker Ambassador William L. Swing and UCD President Professor Andrew Deeks with the Sutherland Family
Ambassador William L. Swing – a former Special Representative of the UN Secretary-General who served two terms as Director General of the International Organization for Migration - was the keynote speaker on the day. Mr. Swing highlighted Peters contribution to migration and his creation of the Global Forum on Migration and Development. (See below a video recording of the Ambassador's speech).
Mr. Swing stated - "The significance of which is that it was the first time ever that the governments of the world came together to look at solutions on how better to manage migration responsibly and humanely. This had never happened before. Peter made this happen."
"The Global Forum was the precursor to everything that has followed since in the field of migration. [Peter] helped to foster an environment where the member states of the UN could come together in a declaration that called for migration to be included in the post 2015 agenda… in contrast to the stark failure of the Millennium development goals from 2000."
Mr. Swing also mentioned how Peter was passionate in the fight against fake news - specifically in relation to migrants and the threats they pose to the countries they find themselves in.
"He didn't make himself popular with this outspoken condemnation of anti-migrant sentiment, but Peter was never concerned about being popular but rather by doing the right thing," he said.
"The Peter Sutherland I knew and admired was a committed and engaged humanitarian… and you don't always think of CEOs and people in the business world as being humanitarians… [but] people listened to Peter because he was a great communicator, a masterful communicator."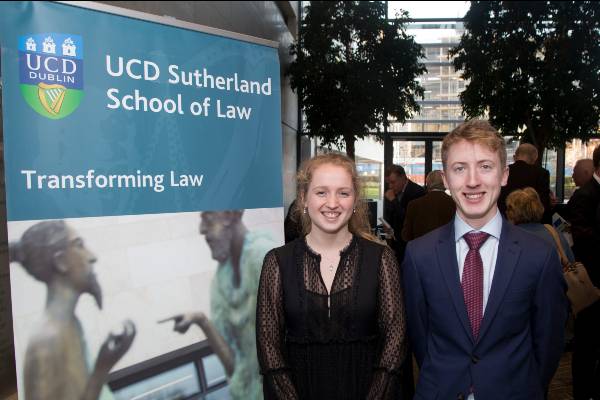 Erasmus students Mss. Luicile Nasiff and Mr. Daire Cassidy
Peter Sutherland is also well known for having founded the Erasmus programme and it was fitting on the day to have 2 Erasmus students, Miss. Lucile Nassif and Mr. Daire Cassidy speak about their wonderful experiences while taking part in the Erasmus programme in UCD.
Later in the day, a panel discussion took place in the A&L Goodbody theatre, involving representatives from Peter's personal, political and business life. The discussion was chaired by Mr Declan McCourt, Chairman of the UCD Law Development Council with Dr Catherine Day, former Secretary-General of the European Commission, Mr Gregory Maniatis, Director of the Open Society International Migration Initiative, Judge Garrett Sheehan, retired Judge of the Court of Appeal and Mr Rory Godson, CEO Powerscourt Group, and Chair of The Ireland Funds Great Britain.
Panel discussion taking place on the day chaired by Mr. Declan McCourt
The conclusion of the panel saw Professor Imelda Maher present the family with Peter's student record card from his time as a student in UCD. It was clear from the stories and anecdotes told on the day that Peter left a lasting impression with everyone he met. His lasting legacy, the superb Sutherland School of Law building is indeed a fitting tribute to the highly distinguished UCD law alumnus, Dr Peter Sutherland.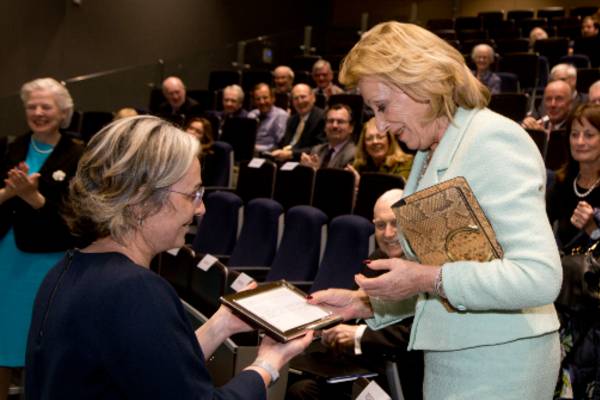 Professor Imelda Maher, Dean of Law presenting a gift to Mrs. Sutherland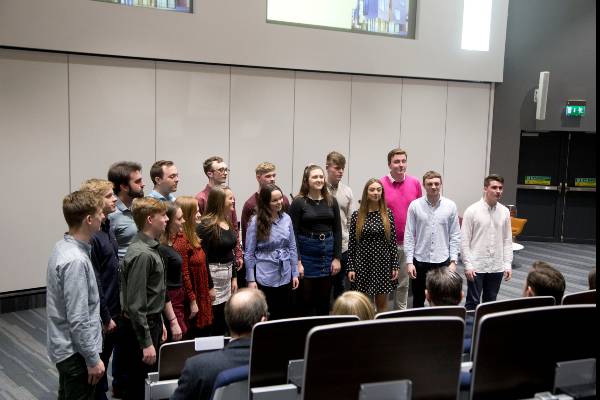 UCD Choral Scholars performing on the day.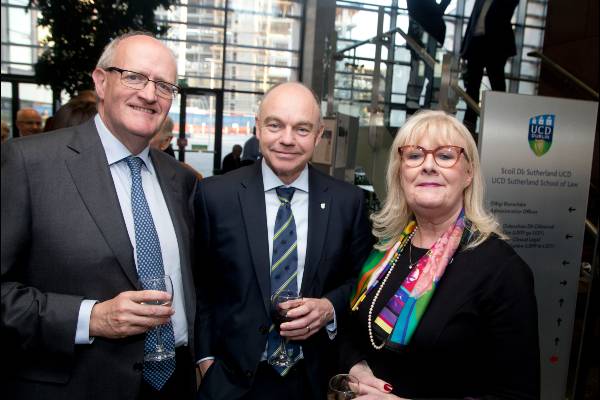 Mr Mark Barr, Arthur Cox, UCD President Andrew Deeks and Ms. Marie O'Connor, Chair of the UCD Governing Authority enjoying the evening reception.
Keynote speach by Ambassador William L. Swing