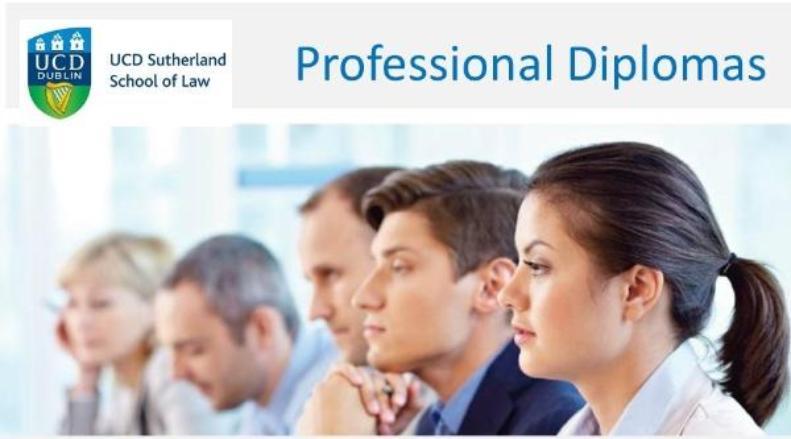 Professional Diplomas Commencing 21 September 2020
UCD Sutherland School of Law is pleased to confirm that the following Level 9 Professional Diplomas are currently enrolling and will start in the week commencing 21 September:
Further information is available by emailing lawdiplomas@ucd.ie or by phoning 01 716 4114.
The Diploma is a 24-week part-time programme, delivered over two trimesters (12 weeks in the Autumn, 12 in the Spring trimester). It is designed to supply training for Data Protection Officers and others involved in compliance roles in organisations. It will also be of relevance to any legal practitioners involved in this area.
The programme is co-ordinated by Dr TJ McIntyre of the Sutherland School of Law who is well known for his expertise in the area. This Diploma has been specifically designed to meet the training needs that developed since the European Union General Data Protection Regulation (GDPR) came into force two years ago. The GDPR has meant that significant new data protection obligations have been imposed on Irish organisations.
Classes will take place at 6pm on Wednesdays in the Autumn term (first class on Wednesay 23 September) and 5pm on Thursdays in the Spring term. Teaching will be face to face in large theatres designed to allow for 2 metre social distancing (Note: should government guidelines in relation to face to face teaching alter, alternative teaching methods will be offered).
This Diploma has been designed to allow students the opportunity to choose from a wide range of legal modules. You will study alongside Masters (LLM) Students and may consider continuing to study an LLM (subject to meeting entry requirements).
Diploma students can tailor their programme to their own specific needs in terms of selecting the modules that interest them most and the class times that suit them best.
The Professional Diploma in Law offers students a choice of modules from the Masters in Law (LLM) programmes, and lectures are shared with LLM students. In essence, students 'build' their own unique Professional Diploma in Law, concentrating on the areas of law of most interest or relevance to them, i.e. Human Rights, IP & IT, Criminology & Criminal Justice, etc.
Applications are also being accepted for the following Professional Diplomas in the Spring term (commencing late January):
Professional Diploma in Professional Regulation
Professional Diploma in Arbitration
There will also be a Professional Diploma in Employment Law commencing in late Spring. If you require any further information or wish to apply for any of these diplomas please email lawdiplomas@ucd.ie or phone 01 716 4114.