Launch of new book on 'The Transformation of EU Treaty Making'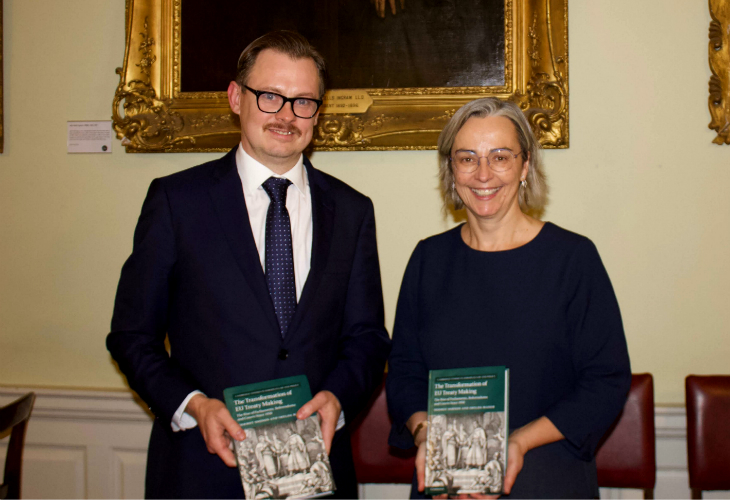 To mark the official launch of Dermot Hodson & Imelda Maher' The Transformation of EU Treaty Making – The Rise of Parliaments, Referendums and the Courts Since 1950, (Cambridge University Press, 2018) The Hon. Mr Justice Gerard Hogan recently chaired a panel discussion in the Royal Irish Academy.



Speaking on the panel were Professor Jo Shaw the Salvesen Chair of European Institutions at the University of Edinburgh and co-editor of the series, Cambridge Studies in European Law and Policy, in which the book is published. Professor David Phinnemore of the School of History, Anthropology, Philosophy and Politics in Queens University Belfast also presented with the authors, Professor Imelda Maher MRIA, UCD Sutherland School of Law and Dr Dermot Hodson, Department of Politics, Birkbeck College, University of London.


About the Book

Treaty making is a site of struggle between those who claim the authority to speak and act on the international stage. The European Union (EU) is an important test case in this respect because the manner in which the Union and its member states make treaties has shifted significantly over the last six decades. Drawing insights from EU law, comparative constitutionalism and international relations, this book shows how and why parliaments, the people and courts have entered a domain once dominated by governments. It presents qualitative and quantitative evidence on the importance of public trust and political tactics in explaining this transformation of EU treaty making and challenges the idea that EU treaties are too rigid. Analysing legal developments in the EU and each of its member states, this will be essential reading for those who wish to understand the EU's controversial experiment in treaty making and its wider significance.


About the Authors

Dermot Hodson is Reader in Political Economy at Birkbeck College, University of London and Visiting Professor at the College of Europe, Bruges. He has published extensively on European integration and governance and his books include Governing the Euro Area in Good Times and Bad (2011), The New Intergovernmentalism: States and Supranational Actors in the Post-Maastricht Era (2015, edited with Christopher Bickerton and Uwe Puetter) and The Institutions of the European Union, 4th Edition (2017, edited with John Peterson). He is a member of the editorial board of the Journal of European Public Policy.


Imelda Maher MRIA is the Sutherland Professor of European Law, University College Dublin. She has published extensively in EU law, and her books include Asian Capitalism and the Regulation of Competition: Towards a Regulatory Geography of Global Competition Law (Cambridge, 2013, edited with M. Dowdle and J. Gillespie). She was general editor of Legal Studies (2012–17) and is a member of the editorial boards of the European Law Journal and the Irish Yearbook of International Law. She is a member of the Royal Irish Academy and served as President of the Society of Legal Scholars in 2017.