Prof Ian O'Donnell marks publication of new book with visit to Áras an Uachtaráin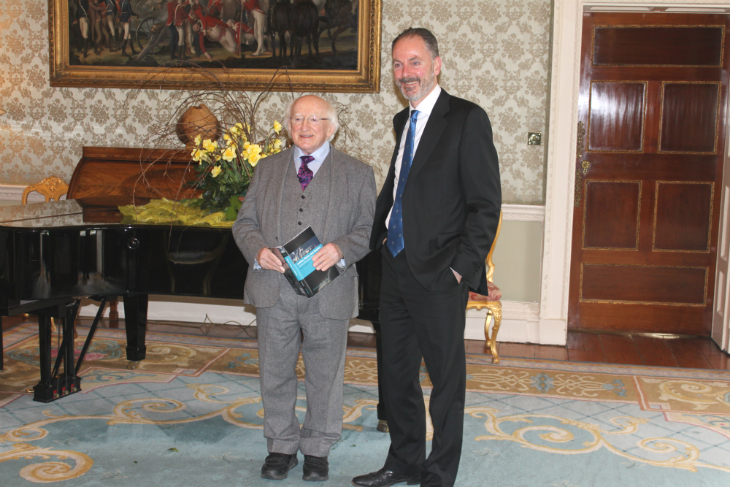 Professor Ian O'Donnell FRHistS, MRIA was invited to Áras an Uachtaráin by President Michael D. Higgins to celebrate the publication, by Oxford University Press, of his book Justice, Mercy, and Caprice: Clemency and the Death Penalty in Ireland.

The book, a product of many years study, is a work of criminal justice history that speaks to the gradual emergence of a more humane Irish state. It is a close examination of the decision to grant clemency to men and women sentenced to death between the end of the civil war in 1923 and the abolition of capital punishment in 1990.

Frequently, the decision to deflect the law from its course was an attempt to introduce a measure of justice to a system where the mandatory death sentence for murder caused predictable unfairness and undue harshness. In some instances the decision to spare a life sprang from merciful motivations. In others it was capricious, depending on factors that should have had no place in the government's decision-making calculus.

The custodial careers of those whose lives were spared repay scrutiny. Women tended to serve relatively short periods in prison but were often transferred to a religious institution where their coercive confinement continued, occasionally for life. Men, by contrast, served longer in prison but were discharged directly to the community. Political offenders were either executed hastily or, when the threat of capital punishment had passed, incarcerated for extravagant periods.

The issues addressed in the book are of continuing relevance for countries that employ capital punishment.

Justice, Mercy, and Caprice is available at a discount of 20% for orders placed on the Oxford University Press website quoting ALFLY5F.