Law Student wins President's Award for work with DEIS Schools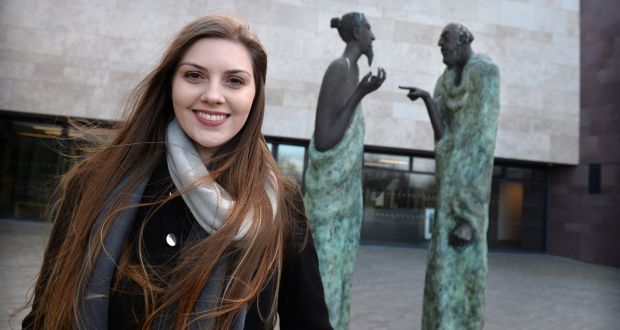 We congratulate Weronika Nowak, final year Law with Social Justice on being honoured by the university with a prestigious President's Award. She received the award for working with students in DEIS schools to encourage and assist them on their journey to pursue higher education. Weronika has also worked on the UCD Festival, leaving certificate revision classes, learning visits and award ceremonies.
The Sutherland School of Law was also delighted to read the recent profile of Weronika Nowak in the Irish Times newspaper. Weronika is in her final year of Law and Social Justice and was featured in an Irish Times article highlighting students who succeed in attending university in spite of challenging socio-economic circumstances.
Weronika arrived to Ireland from Poland at the age of 13 without a word of English. She went to school in Ballyfermot where there are low progression rates to third level. Her school didn't offer higher level options in many subjects. Despite these obstacles, she secured her place to study a law degree in UCD. The university's access programme, she says, was crucial in guiding and supporting her to college.
"When I was in school, it was almost assumed that the majority wouldn't go to college," says Weronika. "Even if we can get the points, the grant doesn't cover the cost of college at all... I've worked every summer and over holidays to pay the costs of third level…Now I'm a mentor for other secondary school students. I tell them that education is just a beginning and that it is the way out of low-paid jobs and inter-generational poverty."
Six per cent of all UCD undergraduates now gain entry through the Higher Education Access Route (Hear) programme and the university has ambitious targets set for the future. Under the Higher Education Authority's National Access Plan for Higher Education 2015-19, third-level institutions have joined together in regional clusters to develop imaginative ways of improving third level access for up to 2,000 students from underprivileged backgrounds.
Evidence shows that once access students get through their first year of college, they are slightly more likely than their peers to stay in college – perhaps because they realise the stakes are high and because they don't have the same safety net as middle-class students.
For Weronika Nowak, the real challenge to narrowing the class gap is dismantling the barriers that face young people in disadvantaged communities, providing practical supports in school and supporting them to raise their aspirations.
"Students from well-off families are so much more familiar with the CAO and college systems, and it's often easier for them to travel because they have cars. I have to travel for between three to four hours every day to get to and from college," she says.
"I was lucky that my school was linked to UCD and so I heard about the Susi grant, and the Hear and Dare [Disability Access Route to Education] programmes to support students from disadvantaged backgrounds and students with disabilities.
"Through UCD's FutureU programme, I had a mentor from UCD who gave me information about third level and financial supports. They encouraged college as an option and worked to break down stigmas associated with it.
"Now I'm a mentor for other secondary school students. I tell them that education is just a beginning and that it is the way out of low-paid jobs and inter-generational poverty."
The full article is available to read here.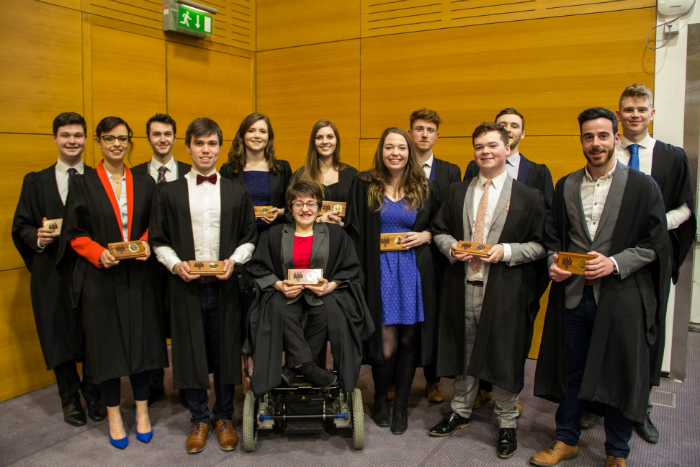 Weronika (fourth from left in back row) pictured with fellow award winners including Law with Philosophy student Aodhán Peelo (first left in back row). Photo credit: James Alkayed
Further details on this years President's Awards are available here.