IRC Funded Human Rights Education in Secondary Schools
In April 2017, the School of Law together with the UCD Centre for Human Rights, welcomed students and teachers from four secondary schools who had participated in an Irish Research Council funded research project which Suzanne Egan had led in conjunction with Amnesty International. The aim of the project was to ascertain the extent to which a short programme of human rights education can facilitate attitudes and actions in young people consistent with the values of democratic societies based on equality and social inclusion.
The project specifically involved designing an 8-week course on Human Rights, Non-Discrimination and Social Inclusion and rolling it out to approximately 100 Transition Year students with a view to testing its impact at the end of the course delivery. A unique feature of the project was the involvement of graduates from the School of Law who had completed the innovative clinical legal education module on Human Rights Education as trainers on the 8 week Programme in the four participating Schools.
On 28th April, the School of Law hosted a reception for all participants in the project during which Colm O'Gorman, Executive Director of Amnesty International, congratulated the students from the schools on their enthusiastic involvement in the project, highlighting the important role of young people in promoting and realising human rights in their homes, schools, communities and in wider society. Suzanne Egan hosted an academic workshop later in the afternoon at which the results of the project were shared and discussed with academics as well as representatives of non-governmental organisations and national human rights institutions from throughout Europe.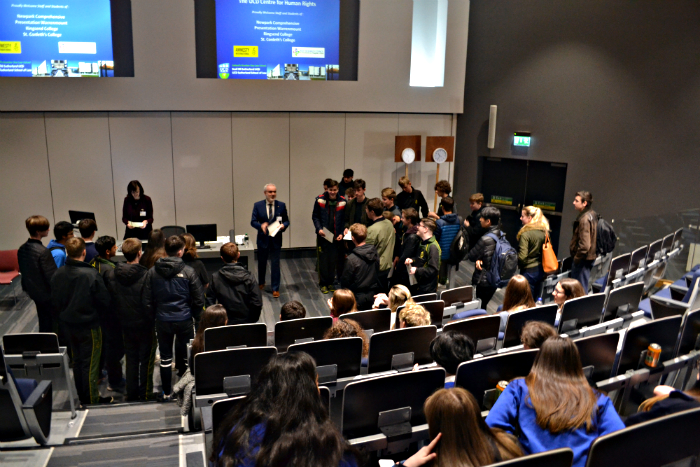 Colm O'Gorman presents certificates to students to mark the completion of the course.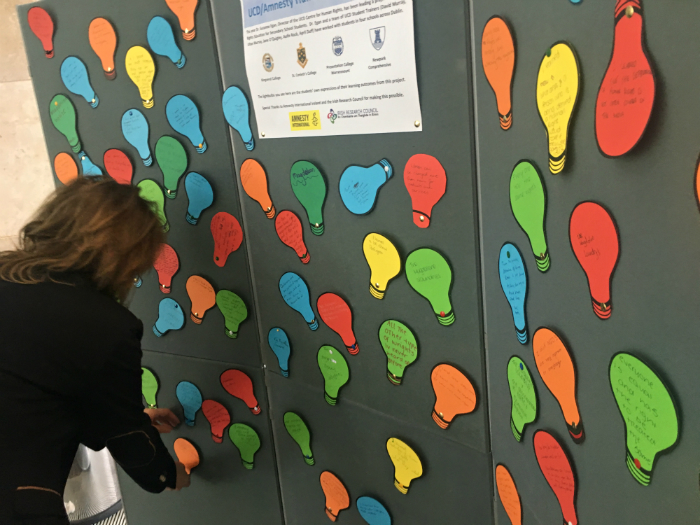 A display made by students to highlight their experiences on this course.