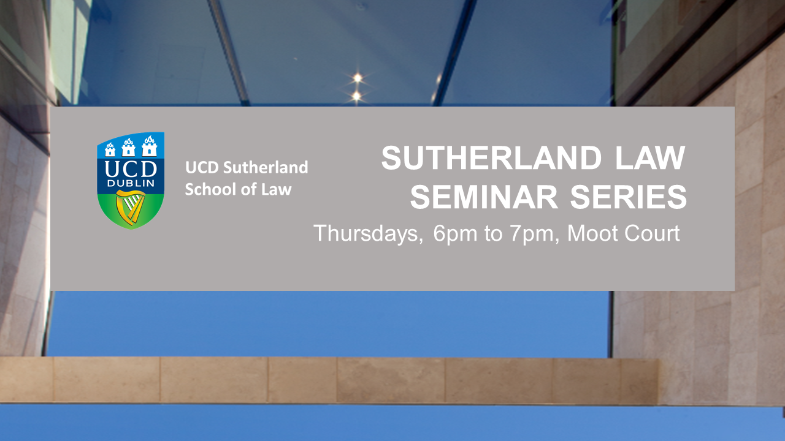 Sutherland Law Seminar Series 2020
The Sutherland Law Seminar Series features lectures on a wide range of topics delivered by Sutherland School of Law adjunct professors and faculty plus a number of distinguished guest speakers.
The seminars take place on Thursday evenings between 6pm and 7pm and are attended by law students, staff and guests of the School of Law.
In 2020, the series featured the following distinguished speakers:
6 February 2020: Adjunct Professor Emma Redmond: 'The Real-World impact of Privacy by Design'
Emma Redmond practices privacy and data protection at Stripe and was formerly Head of International Data Protection at Ancestry.com and LinkedIn.com. She acts as Chair of the General Counsel forum at the American Chamber of Commerce and is a Member of the Inner Temple and the International Association of Privacy Professionals.
13 February 2020: Adjunct Professor Paul Gallagher SC: 'The Court of Justice - Legal Reasoning and the Rule of Law in the context of Data Protection'
Paul Gallagher has been practising at the Irish Bar for 41 years. He was appointed a Senior Counsel in 1991 and a bencher of the King's Inns in 2005. He was Attorney General of Ireland between 2007 and 2011 and is a former vice chair of the Irish Bar Council. He holds degrees in law (UCD, King's Inns, Cambridge University) and in History and Economics (UCD). He practises widely in the areas of commercial law, european law and public law.
20 February 2020: Professor Imelda Maher: 'EU Law in Court: Scotland and Ireland compared'
Professor Maher holds the Sutherland Chair of European Law and is the current Dean of Sutherland School of Law. She previously worked at the London School of Economics; the Research School of Social Sciences, Australian National University; Birkbeck College, University of London; and Warwick University. She is a Member of the Royal Irish Academy and was a founding member of the European Law Institute. Professor Maher was also recently appointed an Honorary Bencher of the Middle Temple.
27 February 2020: Adjunct Professor, Raymond Byrne: 'How Codifying the Law is Our Future Present'
Raymond Byrne is the Law Reform Commissioner since April 2016. He qualified as a barrister in 1982 and has published widely on legal matters. He chaired a working Group whose work led to a Council of Europe 2009 Recommendation on Missing Persons and Presumption of Death. He is currently a member of the Research Ethics Committee of the Royal College of Physicians in Ireland. He was previously Chair of the Irish Council for Civil Liberties and President of the Irish Association of Law Teachers.
5 March 2020: Adjunct Professor Bláthna Ruane SC: 'Legal chaos? The legal struggle for the Anglo-Irish Treaty 1921'
Blathna Ruane BA LLM (Cantab) PhD (Cantab) is a distinguished Senior Counsel, a UCD alumnus and established constitutional historian with a PhD in the field from Cambridge University. She was a partner in a leading law firm, McCann FitzGerald, prior to her call to the Bar in 1992. Her research publications include articles in scholarly and professional journals and in books with leading academic presses in the fields of constitutional law and legal history.
The following seminars were cancelled due to the Covid 19 situation. Rescheduled dates will be announced in due course:
Professor Matthew Kramer, University of Cambridge: 'Freedom of Expression as Self-Restraint'
Matthew Henry Kramer FBA is an American philosopher and is currently Professor of Legal and Political Philosophy at the University of Cambridge and a Fellow of Churchill College, Cambridge. He writes mainly in the areas of metaethics, normative ethics, legal philosophy, and political philosophy.
Professor Oonagh Breen: Philanthropy in Ireland; Exploring the Who, the How and the Why.
Dr. Oonagh B. Breen is a Professor of Law at the Sutherland School of Law where she researches NGO Law, Governance, and Social Change, teaching both in this field and in the area of Equity and the Law of Trusts. She has worked with the non profit sector, charity regulators and policymakers in a number of jurisdictions (including Ireland, the UK, Australia, New Zealand and Canada). She specialises in the area of comparative charity regulation and non profit-state collaboration in public policy formation and development.
Ercus Stewart SC: 'Fifty Years at the Bar…'
Ercus Stewart SC has practised at the Bar since 1970 and since 1982 he has been a Senior Counsel. His practice centres on civil, commercial and labour law, litigation and arbitration. He is also a member of the Bars of Northern Ireland, England and Wales and Australia (NSW). In addition to his law practice, Mr. Stewart is an arbitrator, in international and domestic Commercial Arbitration, and also a Mediator and is a founder member and former chairman of the Chartered Institute of Arbitrators, Irish Branch.
For fiurther updates please email law.events@ucd.ie.