UCD students take top team prize at 2017 Irish Times Debate final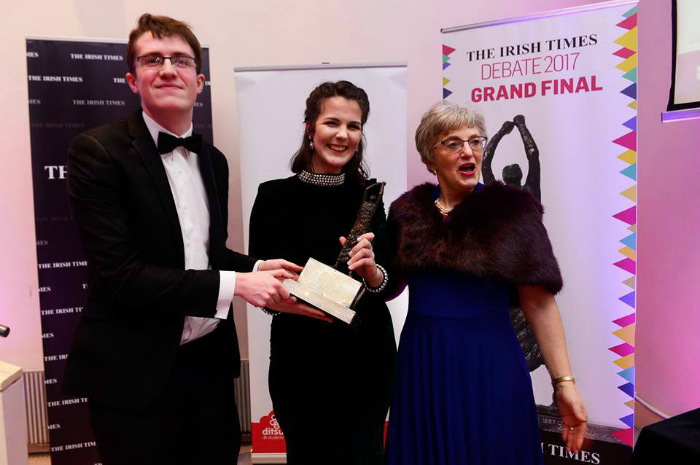 UCD Law students Aisling Tully and Dara Keenan have won the team competition at The Irish Times Debate 2017 grand final, an annual student debating competition. Out of 300 entrants just 4 teams competed in the Grand Final.
The two students, competing as a team representing LawSoc, opposed the motion: 'This House believes the women of Ireland should strike to repeal the Eighth Amendment'.
Strike 4 Repeal, a non-affiliated group of pro-choice activists plan to hold a strike in workplaces if a referendum on the Eighth Amendment on abortion has not been called by March 8, 2017.
The UCD debaters argued that striking would be an overly simplistic response to one of the most complex and controversial social issues in recent Irish history.
"It is really humbling that we won considering the level of talent in the competition," said Dara Keenan. "Obviously to win it with Aisling was great, as she is an incredible debater. It was a lot of fun."
Explaining how the UCD team approached the motion, Dara added: "What we were trying to say was that … it [striking] is an overly simplistic and unnuanced way of trying to discuss something that people in this country don't really have an answer to and really don't know where they stand on [the issue]."
Dara is studying in his second year of BCL Law with Politics and Aisling Tully is currently in her second year of BCL Law with French.
As winners of the team competition, Aisling and Dara will undertake a month-long debating tour of the USA this spring, visiting eight cities, courtesy of the National Parliamentary Debate Association of America.
The Irish Times Debate is the oldest intervarsity debating competition in Ireland. It was established in 1960. This year DIT's Law and Debating Society hosted the competition. It was chaired by Minister for Children and Independent TD Katherine Zappone.