Two Sutherland School of Law students are winners at Irish Times Debate Competition 2018
Our warm congratulations to the winners of The Irish Times Debate Grand Final 2018 last week: Amy Crean (4 BCL Law with Social Justice, representing UCD Literary & Historical Society)—best individual speaker—and Aodhán Peelo (4 BCL Law with Philosophy) and final-year Medicine student Cian Leahy—best team—representing UCD Law Society, and to Engineering student Kevin Brennan, who was the individual runner-up! Well done to Kevin's UCD Literary & Historical Society teammate and fellow engineer Sandi Ndebele on reaching the final with him! The team runners-up were Rory O'Sullivan and Niamh Egleston, of TCD Law Society; well done to them also!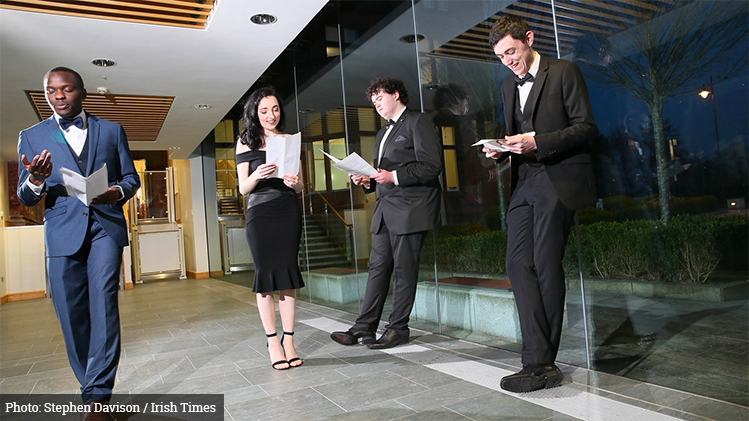 Pictured before the Irish Times Debate 2018 grand final at Queen's Univeristy Belfast (l-r): Sandi Ndeble (UCD L&H), individual prize winner Amy Crean (UCD L&H), Russell Nairn (QUB) and Kevin Brennan (UCD L&H)
The Grand Final was hosted by The Literary and Scientific Society of Queen's University Belfast and the motion was "This House Believes That Ireland Has Failed Its Youth".
This is the second year in a row that a University College Dublin team has won the competition. Last year's winners were BCL Law with Politics student Dara Keenan and BCL Law with French Law student Aisling Tully, also representing UCD Law Society. UCD students have been awarded best individual speaker in this competition in four out of the last five years: in 2014, William Courtney (MB BCh BAO 2014), in 2015, Eoin MacLachlan (BCL Law with Economics 2017) in 2016, Clíodhna Ní Chéileachair (BCL Law with Philosophy 2016) and Amy this year.