War Journalist Sally Hayden receives 2020 Law Alumni Award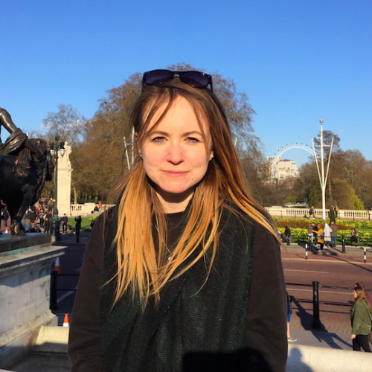 UCD Sutherland School of Law was delighted to honour War Journalist, Sally Hayden with the 2020 Law Alumni Award. Sally graduated with a BCL in 2012 and is is an award-winning journalist and photographer focused on migration, conflict and humanitarian crises.
In the relatively short time since she left college, Sally's work has taken her across Europe, the Middle East and Africa, for outlets including the BBC, TIME, the Guardian, Newsweek, the Washington Post, Al Jazeera, CNN International, NBC News, Channel 4 News, the New York Times, the Thomson Reuters Foundation, Magnum Photos, the Irish Times, the Financial Times, the Telegraph, RTÉ and many more. Between 2014 and 2016 she was staff with VICE News, based out of the UK. Since 2017, Sally has been reporting on allegations of the exploitation of refugees and corruption by staff within the United Nations Refugee Agency. Her reporting has launched internal investigations in several countries, and resulted in a UNHCR staff member being found guilty of abuse of power in Sudan this year. Her latest series, 'Asylum For Sale', was funded by Journalists for Transparency, with editorial support from 100Reporters, and focused on Kenya and Uganda. In 2018,
Sally won first prize in the European Migration Media Awards, best 'foreign coverage' at the Newsbrands Irish Journalism Awards, and was a finalist for the Amnesty International Gaby Rado Award for Best New Journalist, the Kurt Schork Awards for International Journalism, the Frontline Club Awards, the One World Media Awards, and named a 'Rising Star' by the US News Media Alliance. She was also a member of Transparency International's 2018 Anti-Corruption Award Committee, a Logan nonfiction fellow, and listed in the 2019 Forbes '30 Under 30′ for Media in Europe.
We are delighted to be able to share some thoughts from Sally where she remembers her time in UCD while offering some very inspiring advice to our current students.
What are your fondest memories of UCD? "Being a student ambassador, giving tours and encouraging secondary students to come to UCD – especially rewarding when they were set to be the first in their family to attend."
What key life skill did you pick up at UCD? "I loved meeting a wide range of people, in class, when playing with the orchestra and travelling for debating. I wrote for the University Observer. In my third year, I went on exchange to UNSW in Sydney. That taught me a lot about arriving in a place where you know no one and building something of a life."
What career achievements are you most proud of? "It's hard to say I'm proud of anything – I always think of the people in desperate situations who I've interviewed – it's rare anything changes for them even after a report comes out. However, I still believe in the value of journalism and my reporting has been used in legal challenges against governments and referenced by the US State Department and at the European Parliament."
Would you change any aspect of your career? "Journalism is in crisis – pay is low and it's difficult to fund reporting. If journalism isn't funded, wrongdoing goes unexposed.
Advice for today's graduates? "Work hard. Be humble. Keep learning. Don't be too proud to start from the bottom. Follow your passions instead of money. Give back. Amplify the voices of those who are overlooked."