Workshop on Bitcoin and Blockchain Technology in Sutherland School of Law
As Ireland's largest law school, the Sutherland School of Law offers an unrivalled depth of legal knowledge across the major issues affecting business and society in today's world. This breadth of knowledge can be aptly demonstrated when topical workshops are undertaken involving practitioners, undergraduate and postgraduate students alongside School of Law academic experts.
Bitcoin and Blockchain technology and the challenge for law and lawyers was the topic for our most recent workshop, facilitated by Professor Imelda Maher, and led by Dr Noel McGrath. On that occasion, we were delighted to welcome representatives from four leading law firms to Sutherland School of Law. They were, Karen Reynolds, Partner at Matheson, Colin Rooney, Partner at Arthur Cox, John Farrell, Technology Associate at William Fry and Rob McDonagh, Partner at Mason Hayes Curran.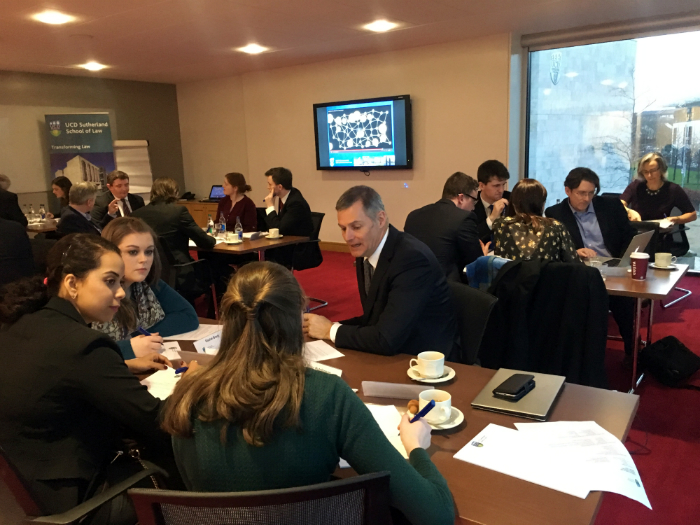 The invited practitioners were joined by eight members of the Sutherland School of Law faculty, including
Professor James Devenney
, McCann FitzGerald Chair of International Law and Business. Undergraduate students taking part were from the BCL, Law with French Law and Law with Philosophy programmes. Graduate students who made a contribution to the workshop included MCL (Masters in Common Law), MSc in International Law and Business and LLM students and one of our EU PhD students, Edoardo Celeste from Italy.
The framework for these Workshop discussions is based on raising a number of pertinent legal issues in relation to the topic. In the case of this particular workshop, Dr Noel McGrath, an acknowledged expert on the subject of Bitcoin and Blockchain technology, provided the following outline for the groups to discuss and offer their input and thoughts:
• Can a money laundering regime operate without banks?
• How do you take a security interest over a bitcoin?
• How are bitcoins to be transmitted on death/insolvency
• What is the governing law of bitcoin and/or the blockchain?
An interesting and informative discussion ensued on this complex and challenging topic.
Our next workshop is scheduled to take place in early May. Full details will be available on the Sutherland School of Law website or by emailing law.events@ucd.ie